– UnFURgettable –
August 12, 2002 – This week's DaDane features a brindle whose identity is unknown to me. I was standing next to her at the 2001 GDCA National Specialty and she caught my eye. (What a face!) I've been holding onto the picture for 10 months, wondering what I might do with it.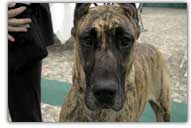 Breaking in my new computer...
After spending the better part of a month transitioning to a new computer – Apple G4 Dual Processor, 1 gig of ram, Unix-based operating system with Mac interface – and updating all my software to this completely "foreign" operating system called OS X, I decided to put my new computer and new Photoshop software through the paces. I was particularly interested in testing some updated Photoshop filters. I decided to focus on the colors and textures of the brindle coat – this week's portrait was the result of those efforts. I hope you enjoy the finished piece. If anyone thinks they can identify the brindle subject, please email me.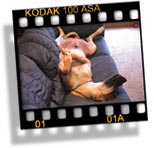 Couch Potatoes
On another note, I want to thank everyone for sending in their valued "Couch Potato" shots. Due to my computer switchover, I haven't been able to keep up with my email very well, so I haven't been able to thank many people personally. (Sorry!!) I am working on a new Couch Potato installment. Based on the photos I've received so far, it appears blacks are the true couch potatoes of the Dane breed, with harlequins running a close second. Apparently few, if any, brindles can be caught snoozing on the couch. Perhaps they are far less lazy – or far more clever. I am still taking submissions if anyone is interested. (You can email me.) If you missed the last couch potato story, click here to see it.
---
©2002-2008 by Ginnie Saunders. All rights are reserved. No part of this web site may be reproduced or transmitted in any form or by any means — electronic or mechanical, including photocopying, recording, or by any information storage or retrieval system — without written permission from Ginnie Saunders. To learn more about copyright issues on the web, visit the Web Law FAQ.






Ginnie.com, Inc.
PO Box 50314
Columbia, SC 29250
(803) 783-3169
www.ginnie.com