Created: 01/27/03
Links:


– Newest DaDane



– Previous DaDane



– Archived DaDanes



– Copyright Policy
Available now
DaDane of DaWeek
T-shirts & Sweatshirts



Coming soon...
DaDane Notecards &
Prints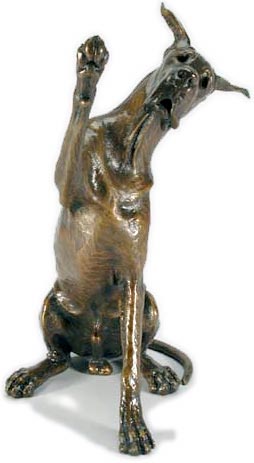 – High Four! –
January 27, 2003 – This cast bronze sculpture, "High Four," was created by one of my favorite contemporary sculptors, Louise Peterson. It was inspired by a very special Great Dane named Hamlet.

Louise is a Great Dane owner – and a Great Dane lover. She is very concerned about the welfare of all Great Danes, especially those in need. As such, Louise is now offering this wonderful limited-edition sculpture for auction on Ebay, with all proceeds – every penny – going to the Mid-Atlantic Great Dane Rescue League. Specifically, Louise is trying to help MAGDRL pay off over $2500 in medical bills for a young merle Great Dane named Droopy. This is a great opportunity for somebody to acquire a valuable piece of sculpture, while at the same time contributing to a very worthy cause.
Mid-Atlantic Great Dane Rescue League
MAGDRL, a tax-exempt organization, was established in 1979 to serve the seven states of the Mid-Atlantic Region. Its all-volunteer staff has struggled to meet the ever-increasing needs of the area. Debby Rahl, MAGDRL's President and Maryland/Delaware coordinator, has this to say about the organization:
We took calls for well over 500 dogs in 2002. A majority of them were taken in by MAGDRAL. Unfortunately some Great Danes had to be euthanized for health reasons and a handful had to be put down for aggression problems. In addition, some were placed directly by their owners or surrendered by their owners to public shelters before they actually made it into our rescue.



No matter how you look at it, providing adequate care for a large number of homeless Danes is an expensive proposition. Last year MAGDRL raised – and of necessity spent – over $200,000.00. Most of our expenses were vet expenses. Most Danes were cared for in volunteer foster homes, but we did have some boarding expenses in 2002. This year, so far, we've been able to get the number of dogs being kenneled down to a very few.



It is a constant struggle to meet our financial obligations. Like most rescues and non-profits, we usually operate in the red and we currently have some outstanding debt. Most of our money is raised one dollar at a time at "meet and greets," by selling merchandise at events like the GDCA Nationals and via donations from our members and the general public. To date, we have not received any large grants. We are now working with a CPA so that we can have our books officially audited. This will enable us apply to various organizations for supporting grants.

All of this work is done completely by volunteers. They give generously of their time and emotions every day to help this wonderful breed. I can't express how proud I am of our group. We manage to cover 7 states, help the dogs we all love, and despite the obvious pressures, remain friends without a lot of squabbling. Everyone keeps focused on our mission to help homeless Danes and Dane-mixes."
— Debra Rahl
President, MAGDRL

---
©2002-2008 by Ginnie Saunders. All rights are reserved. No part of this web site may be reproduced or transmitted in any form or by any means — electronic or mechanical, including photocopying, recording, or by any information storage or retrieval system — without written permission from Ginnie Saunders. To learn more about copyright issues on the web, visit the Web Law FAQ.






Ginnie.com, Inc.
PO Box 50314
Columbia, SC 29250
(803) 783-3169
www.ginnie.com