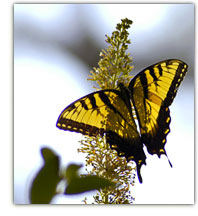 July 7, 2003 – I recently ordered a Nikkor 70-300mm zoom lens for my Nikon D100 camera. As soon as I had it in my hot little hands, I ran outside and started shooting things I wasn't able to shoot before, like close-ups of our swallowtail butterflies high up in the bushes. (They were the most readily available subjects.) That was okay, but I am a dog person at heart, so of course I had to find a Great Dane to shoot. Merlin – bless his little heart – doesn't like to pose. He can be a difficult subject. So forget Merlin, he's too much trouble. Instead, I scooted over to the home of my good friend and neighbor, Cindy Niske. Cindy and Glenn have five Danes. Surely one of them would be willing to put up with a little photography. As it turned out, three of the five dogs were cooperative subjects that day. One of my favorite photos is featured in this week's DaDane. I particularly like the fact that this was an "as is" photo with no retouching necessary. The shallow depth of field provided a pleasing background to show off Peyton's lovely head.
Heading to Texas
The annual Houston Kennel Club's all-breed dog show, held at the Reliant Center, is running from July 18-20. I've been hearing about this HUGE dog show for a couple of years now, so I decided to pack my bags and fly west to see what all the fuss is about. First, I'll be spending a few days with my good buddy Paula Stebbins in southern Louisiana. (Can you say boudin? Yum, yum.) From there, the two of us will drive to Houston for three days of dogs, dogs, and more dogs. Zeli and Bret Schulte, along with their three Danes, have graciously offered us a place to stay. Zeli has a wonderful new digital camera, the Canon EOS-10D. Even though I am a Nikon girl, I know I will be jealous when I see it. I wonder if I can fit another camera into my suitcase? (Prying the camera from Zeli's cold, dead hands might be a little difficult, though.) At any rate, I hope to get lots of pictures of beautiful Danes, both at the Great Dane Club of Greater Houston's specialty show on July 17, and the Houston Kennel Club's all-breed show which immediately follows.
Merlin's New Ride
We managed to get Merlin into the Toyota Matrix (aka merlin-mobile) again on the 4th of July, thanks to Teresa La Brie's foolproof technique of lifting the rear legs and placing them in the car, and then swinging the front legs up and in. Merlin hasn't quite figured out how he can be standing by the car one minute and lying in it the next, but he seemed to enjoy the hour-long drive to our friend's farm house. The big windows provided him with an unobstructed view, and he was fascinated by the scenery whizzing by. When we arrived at the farm house for the party, Merlin was the center of attention (for a few moments, at least) as he cheerfully bounced out of the hatchback. He was pleased to meet up with five other dogs there, including a 3.5 pound white fluffy thing with a bow, whose feet never touched the ground because the owners were afraid Merlin might step on it. (They actually said that.) Merlin, however, was much more interested in a perky female Vizsla named PePe, as well as the potato salad, hamburgers and brownies. It was a big day out for Merlin, and he slept all the way home.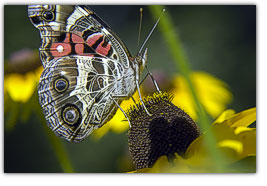 More Butterflies
I'm not a butterfly-chaser by any means, but Cindy Niske has an amazing garden border of gloriosa daisies that attracts hundreds of butterflies. It's a feast for the eyes. The most common butterfly visiting Cindy right now is the American Painted Lady. I photographed one of them, using a +4 diopter on a regular 28-70mm zoom lens. That worked fine, but I sure would like to have a nice macro lens for some of my closer work. Maybe someday. Click here if you'd like to see a larger view of this pic.