– HIGH FOUR –
September 15, 2003 – Over Labor Day weekend, the National Sculpture Society's 70th Annual Awards Exhibition opened at Brookgreen Sculpture Gardens in Pawleys Island, SC. This annual event has a long history. The very first exhibition was held back in 1893. Its purpose was then, and still is today, "to present to the public some of the best recent sculpture created by artists from across the United States." This highly prestigious juried show will stay at Brookgreen for two months and then move to New York City, where it will run through February 13, 2004.
Great Dane Sculpture
Louise Peterson – my very favorite contemporary sculptor – invited us to attend the opening reception at Brookgreen to help celebrate her work's acceptance in the show, so off we went for a leisurely weekend at the coast. By now most of you know Louise and her work. She specializes in bronze sculpture and often uses the Great Dane as her model/subject. Louise was thrilled when she won an award at last year's Annual Awards Exhibition with her sculpture TICKLED.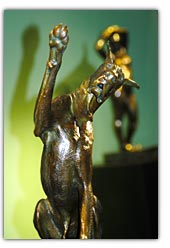 This year she won an even more impressive and substantial award, the John Spring Art Founder Award, for her new 20" bronze, HIGH FOUR. The award was equivalent to one of two 4th place awards, out of a field 52 pieces in the show. (Note: Of 477 works submitted by 204 sculptors, only 52 were juried into the exhibition!)
The artist's statement about HIGH FOUR, which was published in the show catalog along with a photo of the work, reads as follows:
"As a long time Great Dane owner, I see in these dogs a combination of playful goofiness and regal elegance. As a sculptor, I see also a magnificent combination of long bones, muscled limbs, folds of skin and dynamic movement . Although I began as a classical figurative sculptor, in recent years more and more of my work has been driven by my desire to capture the vast array of movements and mood expressed by my Danes. I was inspired to create this piece by hamlet, a Great Dane well-known in the show ring for his "high five." This sculpture is based not only on Hamlet, but also on a friend's Dane with its dew claws removed. Thus, the piece became High Four."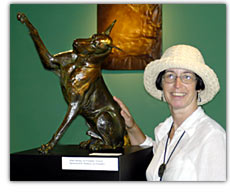 Great Dane National
You'll be able to enjoy (and purchase) Louise's work at the Great Dane Club of America's National Specialty which will be held next month in Orlando, Florida. Show dates are October 19-24, 2004. The event is open to the public. Louise is a member of the GDCA and a corporate sponsor. She will be exhibiting at her booth near the main show ring. If you'd like to order a piece ahead of time, you can visit Louise's web site to preview her work and obtain more information.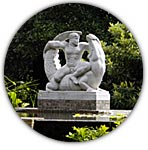 Brookgreen Gardens
If you are within traveling distance of Brookgreen Gardens, I'd urge you to check it out. A one-day visit won't do it justice, though. Brookgreen is this country's oldest and finest sculpture garden/museum, featuring the world's largest outdoor display of American figurative sculpture. The gardens themselves sit on 30 acres in the heart of a 9,100-acre preserve that stretches over 3 miles — all the way from the edge of the Atlantic Ocean to the freshwater lowcountry swamps along the Waccamaw River. It is home to more than 800 sculptures, 550 of which are to be found outside in the gardens. Walking tours of the sculpture gardens and wildlife exhibits are conducted daily, or you can explore the grounds on your own. It is a magical environment in which to view both nature and art.
---
©2002-2008 by Ginnie Saunders. All rights are reserved. No part of this web site may be reproduced or transmitted in any form or by any means — electronic or mechanical, including photocopying, recording, or by any information storage or retrieval system — without written permission from Ginnie Saunders. To learn more about copyright issues on the web, visit the Web Law FAQ.






Ginnie.com, Inc.
PO Box 50314
Columbia, SC 29250
(803) 783-3169
www.ginnie.com