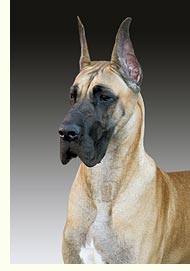 Noel was born in 2002 on Christmas day. We had relatives visiting for the holiday, but Noel's mother kindly waited to start delivering until 5 minutes after everyone had left. Noel was the first puppy to pop out, so we called her "the first Noel." She was soon followed by three brothers.
Noel wasn't all that impressive as a young puppy, or so it seemed at the time. I had her promised to a pet home, but there was something about her that made us take a second look. My friend Jessica Dile also took an interest in her and agreed to co-own with us.
Jessica has done all the wonderful training that is seen when Noel is in the conformation ring. She took her first major (3 points) from the 6-9 month class. Jessica is also working with Noel in Agility and Obedience, which she loves.
Noel knows no stranger and has no fear. She is a joy to live with but she can be a little headstrong, hence her papered name "Hell's Angel." Her favorite trick is opening whatever closed doors might be separating her from something she wants on the other side – usually people or food, depending on her mood. She has been known to jump double-high baby gates to get to her people. (She ought to do well in Agility, don't you think?)
Noel celebrated her first birthday this past Christmas. I guess you could say she's been the "Christmas gift" that keeps on giving.
– Tracy Higgins, gr8tdanz@prairieinet.net