– Yummy! –
May 31, 2004 – For the past several weeks we've been following a litter of three fawn Great Dane puppies bred by Cindy and Glenn Niske. I used the puppies as a "visual enticement" for a discussion about what constitutes responsible breeding. Now I'd like tie up a few loose ends and add some comments.
About the Puppies
Cindy and Glenn live nearby, so it was easy for me to hop in the car every weekend to visit and photograph their puppies. I want to thank Cindy for allowing me access to Hallie's litter, especially when the puppies were less than a week old. For those of you who would like to know a little more about the dam and sire, Hallie's registered name is CH VZTop Seventh Heaven's Hallelujah. The sire of the litter was CH Mister Rhett Butler of VZTop.
Cost of Breeding
The primary goal of this series was to educate the public about how important it is to find a reputable breeder and to explain why it costs so much to produce a quality litter. Although well-bred puppies might seem expensive to an uneducated buyer, the reality is that most breeders don't make much, if any, money on their puppies. The cost of a well-bred puppy simply reflects the cost of producing a quality litter.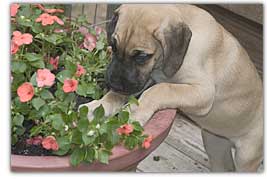 Health Checks
I provided a list of important pre-breeding health tests for heritable disorders and described each of them. These tests are recommended by the Great Dane Club of America. If you are screening a breeder, you should ask which tests have been performed and request verifiable documentation. Am I suggesting you should never, ever buy a puppy from a breeder who doesn't do all the recommended health testing? Not quite. Some well-respected breeders who are of the "old school" will tell you they do not run certain tests because they know their lines intimately and feel the tests are therefore unnecessary. They may have a long waiting list for their puppies because they are selling to people who know them – and their lines – very well. However, unless you have a VERY thorough knowledge of your breeder and his or her breeding history, I believe pre-breeding health tests for heritable disorders are imperative. Furthermore, if all reputable breeders performed such testing on a regular basis, it would become "standard procedure," and the less reputable breeders (of whom there are many) would find it more difficult to push their stock. That's my opinion, anyway.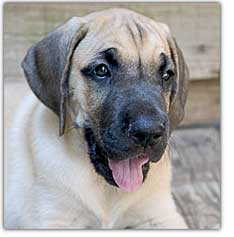 Where to Buy a Dane
Personally, I know of no "quality" breeders who advertise Great Dane puppies in the newspaper. Nor do I know of any who sell to pet stores. If I wanted to add a Great Dane puppy to my household, I would find a knowledgeable breeder who has a solid reputation for producing consistently healthy Danes of good temperament, sound physical conformation, and reasonable longevity. While there can be no absolute guarantee that your puppy will be long-lived and completely free of health problems, the odds are certainly better if you avoid purchasing from a backyard breeder, puppy-miller or pet store.
Don't Rule out the Rescues
Great Dane rescue organizations are often overlooked by the general public as a legitimate source for obtaining a Great Dane. If conformation and lineage are not big issues for you, then you might want to contact a qualified Great Dane rescue organization with a good reputation. Many come to mind. These organizations carefully screen their adoptees (and their adopters) to make the best possible match. Most of the Danes in rescue – and there are so many – were bred by backyard breeders or puppy-millers. Buying directly from such individuals puts money in their pocket and only encourages them. In my opinion, it is far better to "pick up the pieces" and support Great Dane rescue by adopting a needy Dane that has been properly evaluated by people who care. (You can visit my Rescue Directory to find a rescue organization in your area.)
How to Find a Good Breeder
This can be difficult, and quite frankly, you may encounter a good breeder who isn't the least bit interested in selling to you. Remember, reputable breeders are not in it for the money, and they will not sell a puppy to you just because you came along with your checkbook.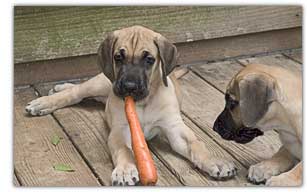 Your best bet is to learn as much as you can about the breed and try to meet some reputable breeders. A good place to start is the GDCA web site. You will find a wealth of information there, including a list of GDCA member breeders. One of the best ways to meet breeders in person is to attend some dog shows. If possible, find a Great Dane Specialty show in your area. You are apt to see many Great Danes there, and you may meet a breeder whose Danes especially appeal to you. Another way to become more familiar with breeders and their lines is to subscribe to a Great Dane magazine such as Dane World. Read the articles and look carefully at the advertising. Mail lists and message boards are also helpful, especially if you can find some that are patronized by serious breeders.
Visit as many breeder web sites as you can, and view them carefully with a critical eye. How many Danes are on the premises? How often are they bred? Do the breeders exhibit their Danes? Are they titled? What do they have to say about health checks? Temperament? Socialization? Are the parents' pedigrees available for review? Is there a contract? Any sort of health guarantee? After you've done all your homework and talked with a number of breeders in person and/or online, you should begin to form an opinion as to who the better breeders are, versus who's just blowing smoke.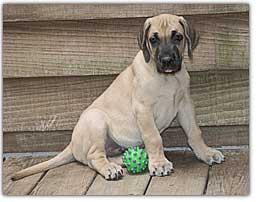 Do You Qualify?
When you start making serious inquiries about obtaining a puppy, expect to be questioned closely. This is the sign of a concerned, responsible breeder – and exactly the type of breeder you want. A good breeder will try to determine if you can provide a suitable home for one of their puppies. Have you ever owned a Dane? Why do you want one? Will your Dane be a house dog? How long will he or she be alone every day? Do you live in the city? Do you own your own home? Is your yard fenced? Do you have children? What ages are they? Do you have other pets? What do you do for a living? What is your yearly income? (Owning a Dane can be very expensive and the breeder will want to be sure you can afford to provide proper medical care for your pet.) Can you furnish references? These are just some of the many questions you may be asked. It is important for your puppy's breeder to know as much about you and your family as possible. Likewise, it is important for you to know as much as you can about your puppy's breeder.
In Closing...
There's a lot more we could discuss when it comes to "the business" of breeding Great Danes, but hopefully this has been a good introduction to the topic. My view is that we should learn to recognize the better breeders and reward them for their efforts by providing good homes for their puppies, without whining about the high cost of a quality puppy. At the same time, we should recognize that Great Dane rescue groups all across the country are struggling to care for thousands of homeless Danes, most of whom are victims of the greed, ignorance or carelessness of their breeders. These dogs have done nothing wrong and they, too, deserve good homes.
---
©2002-2008 by Ginnie Saunders. All rights are reserved. No part of this web site may be reproduced or transmitted in any form or by any means — electronic or mechanical, including photocopying, recording, or by any information storage or retrieval system — without written permission from Ginnie Saunders. To learn more about copyright issues on the web, visit the Web Law FAQ.






Ginnie.com, Inc.
PO Box 50314
Columbia, SC 29250
(803) 783-3169
www.ginnie.com