– T A I P E I –
September 6, 2004 – From the moment we arrived in Taiwan, and even beforehand, there was a constant buzz among the students about DRINKING THE SNAKE BLOOD. At the logistical pre-port meeting the night before we docked in Keelung,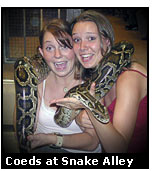 the ship's physician, "Dr. Milt," stood before the student body, and as he always did before a port of call, he rattled off a list of health warnings specific to the destination. Number one on his list that evening was "Whatever you do, please don't drink the blood of snakes." He cited hepatitis and salmonella as possible complications. Only an idiot would want to expose himself to either one. So naturally, at the first opportunity, several groups of students headed for Snake Alley in Taipei to drink the snake blood. We witnessed it firsthand. But I am getting ahead of myself.
Taipei City Orientation
The first field program we signed up for in Taiwan was the "Taipei City Orientation and Mongolian Barbecue." Since it provided an opportunity to tour Taipei just hours after our arrival in Taiwan, it was a popular choice. Due to the large number of participants, people were divided up into specific bus groups. We were relegated bus number four, but our bus was the first to fill and the first to leave, which proved advantageous in terms of beating the crowds.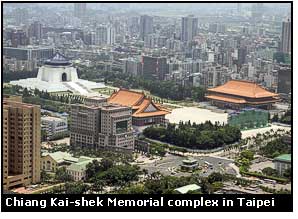 Taipei was a 45 minute bus ride from Keelung. Our first stop was the Chiang Kai-shek Memorial Hall, a well-known landmark in the center of Taipei. It is noted for its grand scale and architectural splendor. Our second stop was the National Museum of History, which is located right next to the Taipei Botanical Garden. My husband and I skipped the Museum and we sneaked out to visit the garden with its huge pools of pink flowering lotus. It was a wonderful diversion!
We made our way back to the Museum just as a thunderstorm hit, and lucky for us, we still had plenty of time to view the exhibits. The third stop on the itinerary was my favorite – Lungshan Temple. Built in 1740 to honor the Goddess of Mercy, Lungshan is a perfect example of traditional Chinese temple architecture. It is one of Taiwan's oldest and most popular temples – popular with both worshippers and tourists. It was a fascinating place and I could have stayed there for many hours, just taking photos. (See my Lungshan Photo Gallery.)
Unfortunately we were scheduled for dinner at a Mongolian barbecue restaurant, so we had to leave promptly. I wanted to linger. At the restaurant we were asked to build our own dinner platters from a huge selection of fresh uncooked meats, vegetables, oils, sauces, and spices. We then handed our creations over to a cadre of chefs who quickly cooked them on a massive, round griddle. The theatrics were entertaining and the meal was pretty good – but I still prefer authentic Chinese cuisine.
Welcome to Snake Alley
After dinner the buses took us over to Taipei's infamous night market on Huahsi Street, just a half block from Lungshan Temple and home to SNAKE ALLEY. The market area, which has been renovated to make it more "suitable" to foreigners, consists of noodle and fish restaurants, exotic and not-so-exotic specialty shops and scores of street vendors.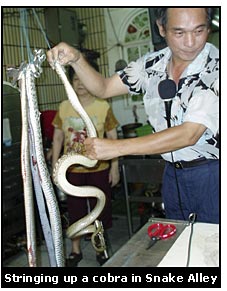 Despite the installation of bright lights, a paved walkway and an overhead roof to keep out the rain, it still isn't hard to imagine a time when Snake Alley was a much darker and more sinister place. As you might have guessed, snakes and snake by-products are still hawked in Snake Alley, although there are fewer of them. These days, sleepy boa constrictors are brought forth and draped on the shoulders of tourists eager for a thrill – and an outrageous picture to send home to the family. (Semester at Sea students couldn't get enough of the boas.) But the big attraction at Snake Alley has always been, and probably always will be, the cobras.
It you happen to be a cobra in Snake Alley, you are sh*t out of luck. First, you are likely to be taunted by your captor in front of a group of squirming bystanders. Then you'll get hit on the head and strung up. The crowd will gasp as your underbelly is slit open with a sharp knife. Your skin will be peeled back and your heart exposed, still beating. Things only get worse. Your heart is ripped out and placed on a table, where it continues to beat. Then your main artery is cut. You bleed out into a glass. The bile from your gall bladder is emptied into another glass. Meanwhile, your heart is still beating over on that table. By then you probably don't care anymore.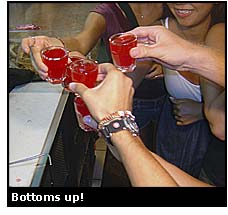 But the audience does. They are anxious to drink your body fluids. Chinese folklore holds that your essence has curative properties, and can act to "strengthen masculinity." Your blood or bile will be mixed with rice wine and served in shot glasses – for a price, of course. The buyer may or may not be Chinese. He probably isn't sick and it's doubtful he's in need of an aphrodisiac. More than likely he's a westerner, a young tourist out to impress his friends. That was certainly the case with the large numbers of SAS students, male and female, who were scrambling over each other for a chance to chug some snake blood. I watched as one co-ed giddily ran up and down the alley looking for Andy, the SAS videographer, who happened to be taping in the vicinity. When she finally found him, she grabbed him by the arm and squealed, "Come on, ya gotta film us drinking snake blood!" He dutifully followed.
That night lots of the kids drank snake blood. No telling how many. We didn't stick around to watch. There were others things to see at the market besides snakes, and we only had an hour to browse. We were then expected to report back to our bus – on time – for the ride back to Keelung. At the appointed hour, some of the students returned to the buses with packages under their arms. They'd been shopping. Others returned with their bellies full of snake blood. Clearly, Doctor Milt's warning about hepatitis and salmonella had fallen on deaf ears. Or had it? During the long ride home Becky Houck, the faculty biologist, was tapped on the shoulder by a student who was, apparently, having second thoughts. "Surely it's safe to drink the snake blood," she said, "otherwise the government wouldn't allow it." It was a question more than a statement.
Hey Dorothy, I have news for you. You're not in Kansas anymore.
Temple Photo Gallery || Previous Installment || Next installment
---
©2002-2008 by Ginnie Saunders. All rights are reserved. No part of this web site may be reproduced or transmitted in any form or by any means — electronic or mechanical, including photocopying, recording, or by any information storage or retrieval system — without written permission from Ginnie Saunders. To learn more about copyright issues on the web, visit the Web Law FAQ.






Ginnie.com, Inc.
PO Box 50314
Columbia, SC 29250
(803) 783-3169
www.ginnie.com