– THANK YOU! –
January 24, 2005 – I want to thank everyone who responded to Duke's Story last week with words of encouragement, thank-you notes to Dr. Bartlett and her dedicated staff, and donations to "Duke's Fund." As Duke continues to recover, I'll try to keep you updated on his progress.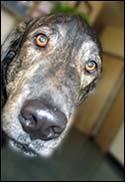 Raising Consciousness
There are those among us who may object to the idea of sinking over $3000 into a homeless dog with such extreme injuries, especially when that same money might have accomplished much more – and for many more dogs – had it instead been directed to a well-established rescue organization. While I can sympathize with the underlying logic and sentiment, I truly doubt most of the money that was contributed to "Duke's Fund" would have otherwise gone to any rescue groups. None-the-less, I feel Duke's story and Duke's relief fund have contributed a great deal to the general cause of rescue. While Duke was just one of hundreds (if not thousands) of dogs caught in a life-threatening situation at any given moment, he has became a tangible symbol of their suffering and need for help. Furthermore, Dr. Barnett – who saw Duke's plight and chose to treat him regardless of his homeless status – represents countless veterinarians all across the country who quietly sacrifice their time and income to help the helpless. Duke's story, although it concerns just one dog and just one veterinary clinic, has made us more aware of the importance of supporting responsible people involved in legitimate rescue activities. ( See next installment. )

Update on Luna
Many of you will remember Luna, who was introduced right here on DaDane of DaWeek exactly a year ago. Like Duke, Luna was one of the very lucky ones. She had been delivered – at the very brink of death due to starvation and neglect – to an emergency veterinary clinic in Michigan. A full-blooded, adult Great Dane, Luna weighed a mere 65 pounds. She was unconscious and seizing. (If you have not already done so, please read Luna's story.)
The attending veterinarian and his devoted staff did everything possible to save Luna's life. They were successful. As soon as Luna was well enough, she went home with Jackie Overbeek, a vet assistant from the emergency clinic. Jackie was determined to provide a forever home for Luna, a home where she could feel loved, safe, and completely comfortable for the rest of her life. She promised Luna that she would allow nobody to ever hurt her again.
Jackie kept all her promises to Luna. Her last loving act was to deliver Luna to everlasting peace. On December 30, 2004, I received this note from Jackie:
"Luna went to sleep peacefully tonight, surrounded by the four people she loved the most; my son (she was actually his first dog), his fiance, my husband and me. She slipped away peacefully, half in my arms and half on a blankie on the floor, with her beloved 'Baby,' a bedraggled stuffed dinosaur.

Before we went to the clinic, we walked to the lake, where she ate tons of snow. Then she had a Burger King cheeseburger and fries (from the drive-through window, which she loved) and three 'people' butter cookies.

I miss her horribly, but I'm hoping she's at peace. Would you please put an update on your web site?"
Luna was eight years old when she died. After so many years of sadness and neglect, Luna's last year of life was a happy one, thanks to Jackie and her family. Luna's weight literally doubled – she went from 65 to 130 pounds. Her health was quite good, despite some spinal problems that were most likely caused by neglect and abuse by her former owners.
So what killed Luna? Unfortunately, it was the emotional damage from her past. At first this took the form of over-protectiveness around other dogs, later around other people. Despite Jackie's efforts to modify Luna's behavior, she eventually became overly aggressive and unpredictable with strangers. When she started going after people, Jackie knew it was time to let Luna go.
Dane Rescue
Unfortunately, what Jackie experienced with Luna is not entirely uncommon in Danes who have survived extreme abuse. At a later date, we will learn more about Jackie's experiences with Luna and we'll get some insight and advice from a rescue expert about the difficult issues Jackie faced.
Dane rescue is a broad and interesting topic, but it isn't an easy one. It's something I'd like to explore in greater depth this year through a series of articles. That said, I think for now it's time to take a break and enjoy the "Lighter Side of Danedom." Next week's feature should bring a real smile to your face.
---
©2002-2008 by Ginnie Saunders. All rights are reserved. No part of this web site may be reproduced or transmitted in any form or by any means — electronic or mechanical, including photocopying, recording, or by any information storage or retrieval system — without written permission from Ginnie Saunders. To learn more about copyright issues on the web, visit the Web Law FAQ.






Ginnie.com, Inc.
PO Box 50314
Columbia, SC 29250
(803) 783-3169
www.ginnie.com