– Sam's Journey, Part 3 –
( Previous Installment )
August 1, 2005 – Bright and early Saturday morning I loaded Sam into my car and we began the first leg of the Dane Train run which would take him all the way from South Carolina to Ontario, Canada. Dane Train volunteer Jennifer Dow met us at the scheduled rendezvous point. Sam hopped out of my car, greeted Jennifer and climbed right into her vehicle. He settled onto a nest of comfy bedding and thumped his tail. At that point I breathed a sigh of relief. Sam was emotionally ready for his next big adventure. He could handle this. I gave him hug and we said goodbye.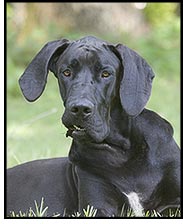 The run to Birch Haven Rescue and Rehabilitation Services in Oxford Station, Ontario, took two days and involved over a dozen volunteers. Sam arrived in Canada safe and sound late Sunday afternoon. Gwen reports he has been very quiet since his arrival, but he's doing just fine. She promised to give me regular updates on his progress.
I know everyone has been rooting for him, but it is important to remember that Sam is just one drop in an ocean of homeless Danes. Breeder JP Yousha refers to them as "our lost ones." I like her characterization because it serves to remind us that as Dane lovers we are, in fact, a community – and as a caring community we should do whatever we can to rehabilitate and re-home these helpless creatures. There are many wonderful rescue organizations, big and small, operating around the country. In addition, there are countless individuals who selflessly donate their time and money to the cause. Please offer your support whenever the opportunity arises. And above all, don't patronize backyard breeders, puppy millers or anyone who "traffics" in Great Dane puppies. It only encourages them. In my opinion there are only two legitimate sources for Great Danes – qualified, reputable breeders and qualified, reputable rescues.
Remember Duke?
Most of you will recall Duke, the young brindle Great Dane (mix) from the Austin area who was found horribly injured and languishing in a shallow ditch next to a busy road last December. Jerry Dunham recently sent us this update:
When he was well enough to leave the Lone Star Animal Clinic, Duke was adopted out to the person who was interested in him from the start. It's a good home where he has another canine playmate and is happy. He apparently no longer even limps, and he can run with the best of them, oblivious to the plate and screws in his leg.

It's nice when a story like this has a happy ending. I read your series on Hector. I want to thank you again for publicizing a rescue success. Most dog owners have no idea what goes on in rescue to bring homeless dogs together with loving homes, particularly special-needs dogs like Hector or Duke, who wouldn't stand a chance if the only available option was just the local municipal pound or county shelter.
CONDOLENCES
Goodbye to Chloe
Galen Benson and Carol Galbraith recently bid farewell to their beloved Chloe. Chloe was 12 years old and suffering from Cushing's Disease (hyperadrenocorticism). Galen writes:
There are not that many things in my life I am proud of, but she was the thing I was most proud of. A more kind and gentle soul shall never be found than our Chlo. She was with us for just over 12 years. Carol found her at the park on July 4th weekend 1993 and rescued her from the dog catcher. She was wormy, underfed and dehydrated, wearing a very fancy collar that was way too small. The vet said she was about 4 months old and had probably been on her own for quite some time. We always believed that she was someone's pet who was devastated by the floods of 1993 here in St. Louis. All the regular and emergency shelters were full and people were just setting their pets loose in the parks in hopes that someone would find them. Well, we found Chlo, or rather she found us, and she became the most important part of our lives for many years, and provided comfort to us for those many events that life so harshly gives us to deal with.

I don't know what we'll do without her. My mind is so cluttered with memories and I am overwhelmed by the loss. Please say a prayer for her and us today. God bless, and thank you, good friends, for listening, being there for us and being kind to all animals.
– Galen Benson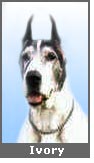 Country Dane Ivory Moon, UD, CGC
Last week Lisa Asbury said goodbye to Ivory, her beautiful and devoted companion. Ivory, who celebrated her twelfth birthday on May 6, was a notable Obedience Dane, Pet Therapy dog, and above all she was Lisa's best friend. Ivory will be sorely missed by many in the Dane community, including me, but she was blessed with an exceptionally long and happy life. And that makes me glad.
Both Ivory and Chloe passed away gently in the arms of those who loved them most, having lived long and well. I can think of nothing more we could want for them. All Danes should be so lucky.
---
©2002-2008 by Ginnie Saunders. All rights are reserved. No part of this web site may be reproduced or transmitted in any form or by any means — electronic or mechanical, including photocopying, recording, or by any information storage or retrieval system — without written permission from Ginnie Saunders. To learn more about copyright issues on the web, visit the Web Law FAQ.






Ginnie.com, Inc.
PO Box 50314
Columbia, SC 29250
(803) 783-3169
www.ginnie.com