– Hurricane Dane –
September 26, 2005 – Not long after Hurricane Katrina leveled the Gulf Coast, Cynthia Hart hopped in her car and left her job, her husband, seven pets and her comfortable home in Asheville, NC, to spend a week with an animal rescue triage near the tiny community of Pearlington, Mississippi.
She knew ahead of time that conditions would be rough, but she was not prepared for what she saw when she arrived at the scene. Located on Pearl River just a few miles from the Gulf of Mexico, Pearlington (population 1700) had been hit with a 20 foot storm surge which began at the Gulf and rolled northward up the river, destroying everything in its path. Cynthia writes,
"Homes had been ripped off their foundations; walls were taken out and washed away; furniture was ripped out and deposited in yards, trees, and marshes. Two inches of mud coated everything, including whatever was left of homes, vehicles and boats. After seeing the extent of the destruction, I could not believe many people and animals in the area managed to survive, but they somehow they did."
The triage area where Cynthia worked was crude, but effective. Shelter for the rescued animals consisted of metal holding pens topped with tarps.
"We saw dehydrated dogs and cats, sick goats and pigs, along with fractured bones. Due to the ongoing stress and intense heat, most dogs had some sort of skin condition.They were brought in after being found running loose, hiding under houses, or huddled in attics. They were vaccinated, tagged, de-wormed, de-flea'd and photographed. Their pictures were cataloged in hopes that they might later be identified by their rightful owners. Meanwhile, rescue groups from North Carolina, Virginia, Florida and Washington, DC were arriving en mass to transport these poor animals out of the destroyed area. They will later be released for adoption, but only if after a 60-day holding period they've not been claimed."
Cynthia spent her nights in a tent pitched on the front lawn of the Mandeville, LA, kennel where many of the Pearlington rescues were being temporarily housed. The kennel had no electricity, little water, and about 100 animals filling every available run. Every morning she commuted 40 miles to the Pearlington Triage to spend long, hot days cataloging and caring for scores of homeless animals. Not surprisingly, she developed a special relationship with one of them:
"Dahlia and I met on the first day I was in Pearlington. Almost as if it was meant to be, the rescuers who had been out searching brought her into the triage area just as I was walking up on my first day of volunteering. It had taken them four hours to coax her out from under the demolished house where she had been hiding for two weeks since the hurricane. I took one look at this aging, emaciated, frightened Dane and announced that I would be fostering this one! From then on, I tried to spend a few moments with her every hour while I went about my work. We shared the same chicken and rice dinner given to us by the wonderful folks from the Salvation Army. I think she enjoyed it even more than I did.

I took Dahlia back to the kennels in Mandeville, LA, where our group was holding the Pearlington dogs. She spent the next four days shaking, backing away from anyone who came near her, and growling at me whenever I put a leash on her to take her out for some exercise. I thought to myself, 'This girl obviously had a rough life to begin with. During those hellish hours on August 29th, she lost everything she'd probably ever known. She must be scared to death.'

After a hot, sweaty week of helping to feed, walk, catch and rehydrate some 200 animals, it was time to say goodbye. Dahlia climbed into my car and we headed off together for home. She was a good traveler during the 12 hour drive and I was certainly glad to have the company.

In the two weeks she's been living with us, this unsure, skinny black beauty has truly blossomed. She's a happy girl, jumping around excitedly when I get home from work, tumbling around the floor with our Dalmatian, Olive, and afterwards, relaxing on the big bed like a princess.

On her first trip to the vet we learned that Dahlia is 7 or 8 years old, 30 to 40 pounds underweight, has severely damaged teeth from chewing on stones or a kennel, (probably out of sheer boredom), and worst of all, she is heartworm positive. This week she will be sedated and closely examined to determine the full extent of the damage. Hopefully heartworm treatment can begin right away.

What does the future hold for our beautiful foster fur-kid? Nothing is written in stone for now. I have to remind myself that for the next 45 days we are JUST taking care of her. There is always the possibility of her former owners coming forward to take her away. If she is still with us by Halloween, I can breathe a sigh of relief.

You're probably wondering if we'll keep her and make her part of our already too large family – another Dane, Dal, Beagle, four cats and two guinea pigs. It depends on who you ask, me or my husband. We'll just have to wait and see. One thing is for sure, though. Dahlia's future is much brighter now – and I get all the slobbery kisses from her to prove it!"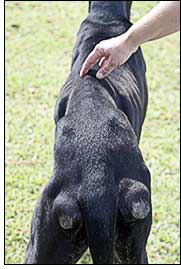 Cynthia brought Dahlia down to see me this past weekend, just so I could photograph her and put together her story. It was almost a four hour drive each way. That's devotion to a cause!
I was impressed by Dahlia's sweet disposition and not at all surprised by her attachment to Cynthia. She seems quite well-adjusted, particularly after all she's been through. She is a petite Dane, just skin and bones at 90 pounds. You can tell at a glance that she has had a tough life. She's whelped at least one litter, probably more. Her elbows are heavily calloused, along with her bony rear end. (I have never seen such calluses on the fanny of a dog.) As Cynthia pointed out, her front teeth are a wreck, but they don't seem to bother her. Her dental status will be further evaluated this week.
Cynthia told me that if she was SURE Dahlia would be going to an exceptional home, she would be willing to give her up, assuming her original owners never come forward. (Perish the thought.) If you would like to find out more about Dahlia's future availability, or if you'd like to learn more about Cynthia's volunteer experience, you can email her at Cynthia Ann.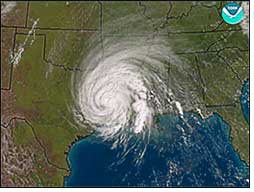 Paula Stebbins, Hit by Hurricane Rita
Those of you who know me personally or regularly visit DaDane of DaWeek know that Paula Stebbins is my cherished friend. I have featured her companion Danes off and on for almost a decade – Maggie, Gambler and Quincy.
What many of you don't know is that Paula lives in Lake Charles, Louisiana, a city that was hard hit by Hurricane Rita. You've probably all seen video clips of battered and flooded Lake Charles on the news. Like all of Paula's close friends, I was relieved when she was able to evacuate to Little Rock, AR, well ahead of the storm. Grateful that Paula and her pets are safe and sound, we've been anxiously waiting for word about her home and business. Paula lives on the southern edge of Lake Charles near the airport, which was very heavily damaged. Her business, Phototek (a camera store and digital imaging center), is located just 3 miles away.
Paula wants everyone to know that so far, things don't look too bad:
"The good news is that my home sustained some damage, but nothing catastrophic. I've been told my house is not flooded – there is no standing water in the subdivision. There is roof damage which means there will be water inside, but at least no flood waters. The plywood board on the windows is intact, so probably no window damage. The fences are down and one of the big trees in front was uprooted but did not hit the house. I am very relieved, to say the least.

The store, however, sustained some significant structural damage. Part of the front wall came down. We are told you can see inside the building, but it is up toward the top which should make it difficult for looters. The sheriff's department is aware of the situation and patrolling regularly. Although the building didn't flood, there is probably a lot of water inside since part of the wall was knocked out. We are hopeful that the lab equipment is okay – we covered everything with visqueen before leaving. We'll know more as soon as we can get back to inspect everything personally."
During Hurricane Katrina, Paula opened her home to five friends from New Orleans, plus their assorted dogs and cats. She housed the group for several weeks until they were able to make other plans. Little did she imagine that soon she would be an evacuee herself. If you'd like to send Paula a note of encouragement, you can email her at Paula Stebbins.
---
©2002-2008 by Ginnie Saunders. All rights are reserved. No part of this web site may be reproduced or transmitted in any form or by any means — electronic or mechanical, including photocopying, recording, or by any information storage or retrieval system — without written permission from Ginnie Saunders. To learn more about copyright issues on the web, visit the Web Law FAQ.






Ginnie.com, Inc.
PO Box 50314
Columbia, SC 29250
(803) 783-3169
www.ginnie.com