"It was a great New Year's Eve party last night —
but I think I drank a little too much milk!"
January 1, 2006 – This little rascal was born on Christmas Day, along with 7 other littermates, to CH VZTops Autumn of Seventh Heaven. His sire is CH Our Danes Fury, which means he and his siblings are full-blooded brothers and sisters to MICK, winner of this year's GDCA Futurity.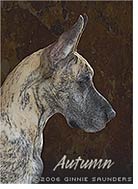 It's hard to resist a puppy, much less a Great Dane puppy, so when Cindy Niske invited me to come and view the litter, I grabbed my camera and off I went. Momma Autumn was every bit as proud of her puppies as Cindy. She quite literally led me to the whelping box, her tail wagging all the way.
Autumn's tiny, innocent puppies will undergo incredible physical and cognitive changes over the coming 12 months. By next New Year's Day, 2007, they will be strapping youngsters full of mischief and ready to take on the world. I wish them – and all of you – a Happy, Healthy New Year!
---
©2002-2008 by Ginnie Saunders. All rights are reserved. No part of this web site may be reproduced or transmitted in any form or by any means — electronic or mechanical, including photocopying, recording, or by any information storage or retrieval system — without written permission from Ginnie Saunders. To learn more about copyright issues on the web, visit the Web Law FAQ.






Ginnie.com, Inc.
PO Box 50314
Columbia, SC 29250
(803) 783-3169
www.ginnie.com