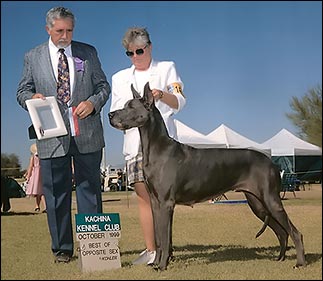 A HEARTFELT TRIBUTE
By Kathleen Holland
Everyone has their favorite event at the Nationals and we just love the Parades. So many beautiful and accomplished Great Danes with their owners... all having fun, telling their stories and enjoying their minute in the spotlight of the "Big Ring."
The 2005 GDCA National parades were especially memorable for the Kappadane family this year. We had 8 dogs entered, but without a doubt the entry we were most excited about was Sky (AM Mex Dual Intl CH Kappadane's Desert Sky CGC) who at eleven and a half, along with Liz Kapash, founder and head-honcho of Kappadane, would be strutting her stuff.
Those of us in the Kappadane family decided that we really wanted to honor this moment and help tell the story of a special lady... Breeder, Owner, Competitor, Mentor; and to tell this story of an inspirational dog... Beloved pet, Conformation Champion, Brood Bitch. It was impossible to separate the two because, for those who loved them both, they were one in the same... both ladies with unarguable style.
Deciding that we really wanted to surprise Liz with something special in the ring, we began our campaign of deception. We talked to Liz about what she would like to do in the ring and after much discussion a teal-colored sash for Sky to wear was agreed upon, something uncomplicated that would be easy to put on and not distract too much from Sky herself. Promises were made to make sure that the aforementioned sash would be ringside and ready to be slipped on right before her entrance.

Parade day arrived and Sky was in her glory at the show grounds... tail wagging and gray face grinning happy, greeting everyone who was willing to pet her. As their time to go into the ring got closer Liz kept asking about the sash. (Where was it? Who had it?) We kept telling her it was coming, don't worry it would be here soon. With only a few more dogs to go before it was Sky's turn, Mother Nature decided to join the festivities and conjured up an incredible fast-moving micro burst thunderstorm that literally shook the show grounds with thunder, rain and wind. The parades were halted so everyone could go check on dogs and set-ups.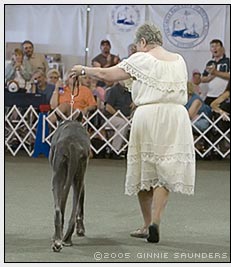 When everyone returned (a bit soggy and wind blown) Liz and Sky were waiting in line. That's when the rest of us put our plan into action.

Including Sky, we had 12 Kappadanes there... 5 generations of blues that were all Sky's descendents. (As we like to tell Liz "They're all your fault!" when they've been naughty dogs.) We had made signs for each dog listing their titles and accomplishments. The youngest four, at 6 months, had their CGC's and the rest were filled with the multiple ring successes... AM, Mex and Intl CH, CD, CDX, RN, NA, NAJ, Mex PC, TT, TDI, TDIA, and TDIAOV.

While Liz was waiting in line (still asking about the sash) we quietly distributed our signs and filtered through the crowd, positioning ourselves with our dogs near the ring entrance and exit. Sky was next, and as her name was announced and they began to step into the ring, we told Liz to go to the front of the ring and "DON'T TURN AROUND!" until we told her to.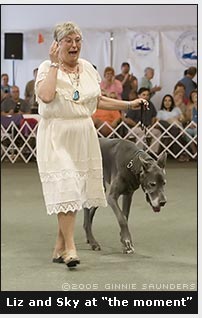 I can only imagine what she thought... the look on her face was a combination of irritation ( we never did produce that teal sash) confusion (you want me to do what?) nervousness (this was the parades after all) and mostly, and most importantly, complete and utter love for her beloved Sky. As Liz and Sky moved front and center stage, the rest of us scrambled into the ring and quickly formed a line behind her, each person holding a sign showing their dog's accomplishments. As soon as we were all in place, we yelled at Liz to turn around.

Liz and Sky spun around to see 11 Kappadanes, all waving their signs. Most of the handlers were in tears as we saw Liz's face, saw her viewing what over 35 years of Kappadane breeding program, mentoring and LOVE really looks like.

Sadly, Sky recently left us at 11 years, 8 months, of age... but her legacy lives on.