— Ace of Hearts —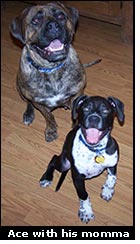 August 14, 2006 – Last week I received a phone call from Dana Kaminer, a local woman who's involved in Bullmastiff rescue. Dana wanted to talk with me about a 3-month-old puppy named Ace. He arrived in rescue along with his mother, a purebred brindle Bullmastiff. Both of them are living with Dana until good homes can be found.

According to Dana, Ace's father was a purebred Great Dane. "Ace looks a lot more like a Great Dane than a Bullmastiff," she told me. She was wondering if I could put her in touch with any Dane rescue groups that might be willing to cross-post Ace on their websites to give him some additional exposure.
It seemed like a reasonable request, so I asked for photos and told her I'd see what I could do. The photos arrived and I don't know about you, but nothing about Ace suggests Dane lineage to me. Although he is awfully cute, I see no physical traits that would lead me to believe he was sired by a Great Dane. (Your thoughts?)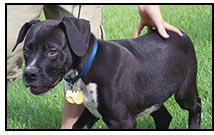 I expressed my doubts and asked Dana if she was certain of Ace's parentage. Her response? "Well, I thought I was 100% sure his daddy was a Great Dane, but that was based on information provided by the woman who put his mama into Bullmastiff rescue. Maybe not, huh?" We agreed that Ace's best chance for adoption is Bullmastiff rescue, not Great Dane rescue. Fortunately for Ace, Dana is prepared to foster him as long as necessary. She says he's an easy puppy with an outgoing personality. He's been microchipped and he's up-to-date on all his shots. If you happen to know anybody who might be interested in adopting this Bullmastiff-mix puppy, please contact Dana in Lexington, South Carolina, for more information.
---
©2002-2008 by Ginnie Saunders. All rights are reserved. No part of this web site may be reproduced or transmitted in any form or by any means — electronic or mechanical, including photocopying, recording, or by any information storage or retrieval system — without written permission from Ginnie Saunders. To learn more about copyright issues on the web, visit the Web Law FAQ.






Ginnie.com, Inc.
PO Box 50314
Columbia, SC 29250
(803) 783-3169
www.ginnie.com