— BROOKGREEN GARDENS, Part 1 —
View second installment | View third installment | View final installment
April 16, 2007 — I recently had the pleasure of spending several days at Brookgreen Gardens with "sculptor extraordinaire" Louise Peterson. Louise, who most of you already know, had flown to South Carolina from her home in Colorado to attend a week-long sculpture workshop under sculptor Stanley Bleifeld at Brookgreen's Center for American Sculpture.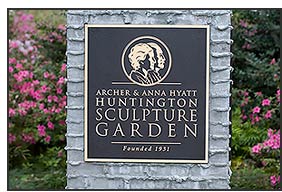 She invited me to tag along for a couple of days. While Louise sculpted from 9-5, I wandered the grounds of Brookgreen with my camera. Evenings were spent together, just catching up on things. And there was plenty to talk about, such as...
A Major Achievement
Louise's lifesize bronze sculpture "Bella and the Bug" (seen above) was installed at the Garden last January. This is a big deal, folks, a VERY big deal.
Brookgreen Gardens is the nation's oldest figurative sculpture garden/museum. Located on Pawleys Island, SC, Brookgreen was first opened to the public more than 75 years ago! The estate's Huntington Sculpture Garden features 900 individual works, many created by some of the greatest names in American sculpture. As such, the Brookgreen collection is considered the finest outdoor presentation of American figurative sculpture in the world.
And now Louise herself is part of that legacy! She writes:
Brookgreen Gardens

I first visited Brookgreen Gardens in 2002 when Tickled was given an award in the 69th Annual Awards Exhibition of the National Sculpture Society. It is a magical place. I was in awe of all the wonderful sculpture displayed so beautifully through out the gardens. I feel a strong connection with the founder, Anna Hyatt Huntington, who was herself a prolific and excellent animal sculptor. She grew up with Great Danes and raised Scottish Deerhounds. In fact, her first sculpture was of a Great Dane dancing with a woman! Anna encouraged other women sculptors of her day. It was considered "unseemly" for women to sculpt human figures, so they often sculpted animals instead. There is a wonderful pair of Great Dane gatekeepers at Brookgreen, sculpted by Ms. Huntington. The Yogi was inspired by them. A small sculpture by Katharine Lane Weems, Greyhound Lying Down, influenced Bella and the Bug.

I have been visiting Brookgreen Gardens at least once a year, almost as a pilgrimage. It feeds my sculptor's soul and provides me with inspiration. Each year I see new pieces and look at others in a new light as I grow as a sculptor.

Bella joins the Collection
From my first visit I decided that I had to have one of my Great Dane sculptures in the collection. I submitted my life size Bella and the Bug to the 71st Annual Awards Exhibition of the National Sculpture Society. She was accepted into the exhibition, which opened in New York. Only the winners would travel to Brookgreen Gardens; Bella won the Leonard J. Meiselman award and made the trip.

Brookgreen decided to keep her! Bella was given an incredible spot in the gardens. She lies among works by past presidents of the National Sculpture Society, and across from Anna Hyatt Huntington's monumental Don Quioxte. I'm told Bella is one of their most popular sculptures and my small pewters and bronzes sell quite well in Brookgreen's Keepsakes Museum Gift shop.

Bella's popularity at Brookgreen has paved the way in South Carolina for more public sculptures. Chickadee was the first sculpture installed at The Reserve at Lake Keowee and High Four will be on loan to a dog park in the city of Greenville beginning in May. Fundraising efforts are underway to purchase High Four for permanent installation at the park.
---
©2002-2008 by Ginnie Saunders. All rights are reserved. No part of this web site may be reproduced or transmitted in any form or by any means — electronic or mechanical, including photocopying, recording, or by any information storage or retrieval system — without written permission from Ginnie Saunders. To learn more about copyright issues on the web, visit the Web Law FAQ.






Ginnie.com, Inc.
PO Box 50314
Columbia, SC 29250
(803) 783-3169
www.ginnie.com