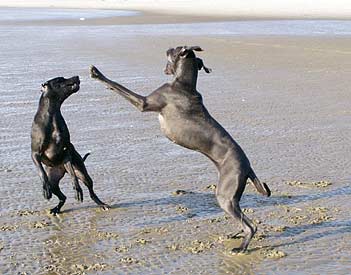 — STYLE'S LEGACY —
by Andrea A. Delaplane
I am an American citizen living in the Netherlands since August 2002. I waited 31 years to get my first Great Dane. I adopted a blue female Great Dane from Rescue through the Netherlands Duitse Dog Club (NDDC) in Holland at the end of December 2003.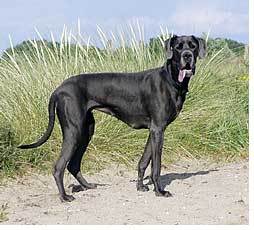 She was 12-months old when we brought her home, and we called her STYLE. STYLE brought so much joy and happiness into our lives; she became the heartbeat of our family.
In 2005-2006, I took STYLE to dog shows in Holland. STYLE was a natural in the dog show ring. She had a special pizzazz, joy-for-life, charm and grace, like poetry and music put together. STYLE won the prestigious Amsterdam Winner 2005 Title, Best Blue Female.
Brought Down by DCM
When STYLE was diagnosed with Dilated Cardiomyopathy, severe stage, on September 26, 2007, my world came tumbling down. It was a kick in the stomach, a stab in the heart; I was devastated.
We immediately started STYLE on a plethora of heart medication: Vetmedin, Fortekor, Spironolactone, Furosemide and Digoxine. I tried to remain strong and positive for the sake of STYLE's well-being. I watched in utter horror as DCM brought my beloved blue girl down at lightening speed.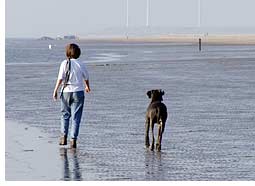 On February 6, 2008, STYLE went into complete heart failure. I had no other choice, but to have STYLE gently and humanely euthanized. STYLE was five years one month and three weeks old when she died.
The dog of my dreams, the song in my heart, STYLE was gone — and my life would be forever changed.
"DCM Great Danes" on Yahoo
I had created a webpage on Yahoo Groups back in mid-November 2007 while STYLE was still with us thinking that some day, since having gone through this heart-wrenching, traumatic experience, that I could help other dog owners, specifically Great Danes who were facing this Devastating Caustic Menacing disease.
Four days after STYLE's death, I publicly announced this newly-formed group, DCM Great Danes, on several different forum groups on Yahoo. I didn't think there would be much interest, but I wanted to be available to help and emotionally support Great Danes and their owners.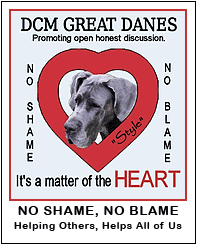 Within one week's time of the announcement, to my surprise, I had 63 members join DCM Great Danes on Yahoo, DCM dog owners, Great Dane breeders, Canine DCM researchers, cardiologists, and veterinarians from around the world, Germany, Holland, Australia, Canada, and the USA.
What started as a small idea had blossomed into something I could never have imagined in a million years ... dog owners and Great Dane breeders sharing their stories, posting photos and pedigrees of their dogs, brainstorming about possible modes of inheritance, giving first-hand knowledge and advice to others about how to care for a DCM dog, talking openly and honestly about DCM and sharing information.
My heart sings with joy because STYLE's death was not in vain. Through STYLE's death from Canine Dilated Cardiomyopathy (DCM), we can come together as one. We can stop finger-pointing and gossip-mongering. Our motto is: "NO Shame, NO Blame. Helping Others, Helps All of Us."

You Can Help
Please help in the fight against Canine Dilated Cardiomyopathy. We are now selling DCM Great Dane t-shirts on-line through Café Press. The proceeds (profits) go directly into an account for Dr. Stephanie Herbst at the Texas Heart Institute specifically for canine DCM research into the Great Dane. Each t-shirt design features the face of a DCM Great Dane enclosed in the DCM heart logo with his or her call name.
Help in the Fight Against Canine Dilated Cardiomyopathy (DCM)
DCM Great Danes on Yahoo
It's a Matter of the HEART
Thank You!
Andrea A. Delaplane

"Sweet dreams my Princess STYLE, I love you with all my Heart "