— Dead Sea, Israel, March 18, 2010 —

March 31, 2010 – Some photos from the first day of a two-day Dead Sea field trip for members of the International Conference on Radium and Radon Isotopes as Environmental Tracers, sponsored by the Israeli Institute for Advanced Studies, the Israel Science Foundation and USA's National Science Foundation. Meetings were held at Hebrew University in Jerusalem and followed by a working field-trip to the Dead Sea.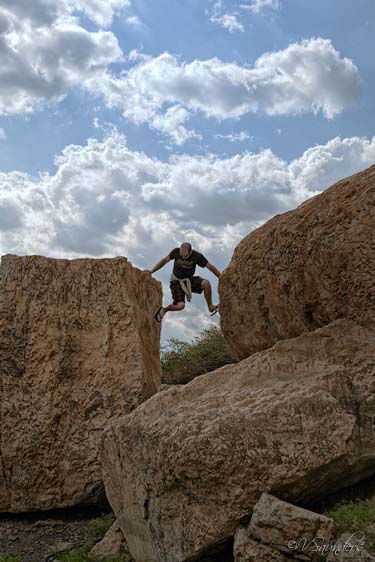 Dr. Aaron J. Beck, Assistant Professor of Marine Science at VIMS.
If there's something to climb, Aaron will be on it. Immediately.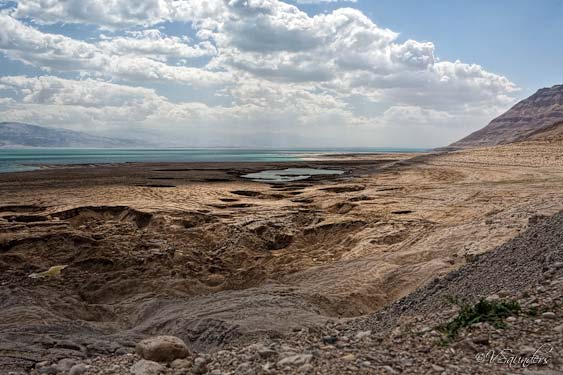 Collapse-sinkholes near Mineral Beach. During the past 30 years more than
2000 sinkholes have developed along the western coast of the Dead Sea.
These sinkholes occur when deeply buried layers of salt dissolve.
More info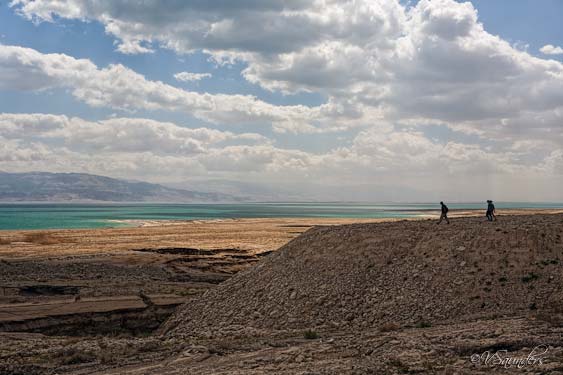 Another view, plus a glimpse of the Dead Sea. Jordan lies on the opposite shore.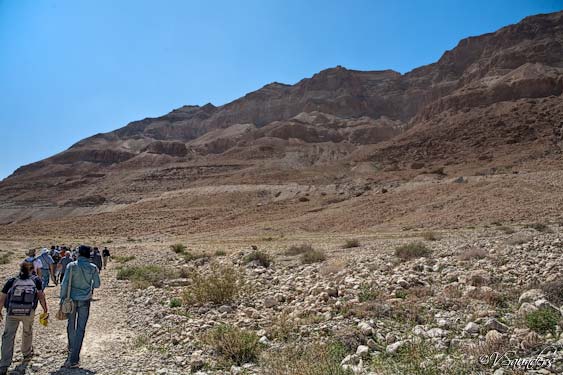 Hiking down to the beach.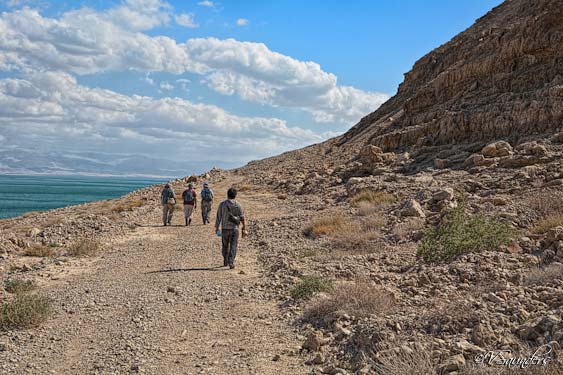 It was a long way. The surface of the Dead Sea is over 400 meters (1,300 feet) BELOW sea level.
It is the lowest place on the surface of the Earth.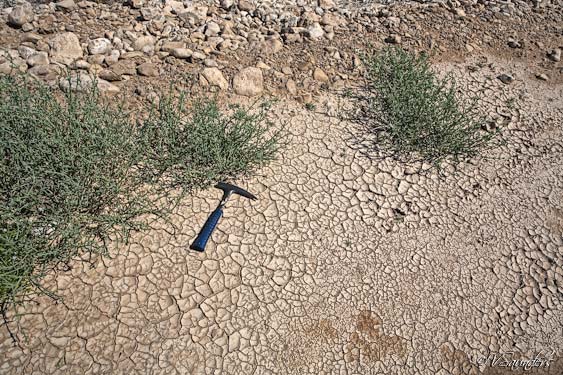 Parched soil, with a geological hammer for scale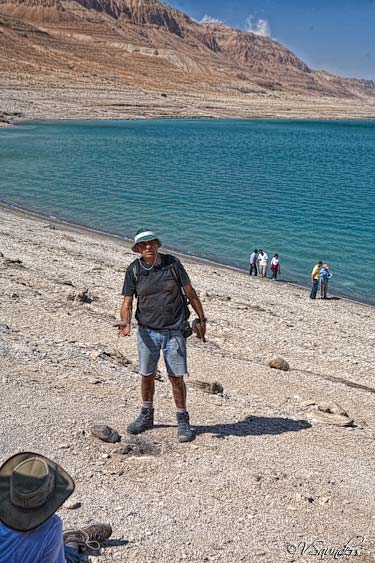 Dr. Boaz Lazar, from the Institute of Earth Sciences at Hebrew University in Jerusalem.
One of two conference organizers.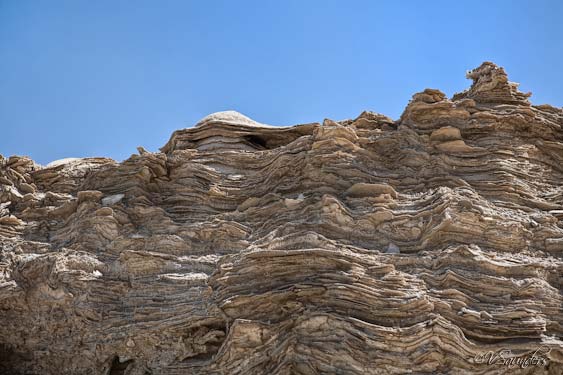 An area of exposed Holocene (10,000 years ago to the present day) sediment
adjacent to the Dead Sea shoreline.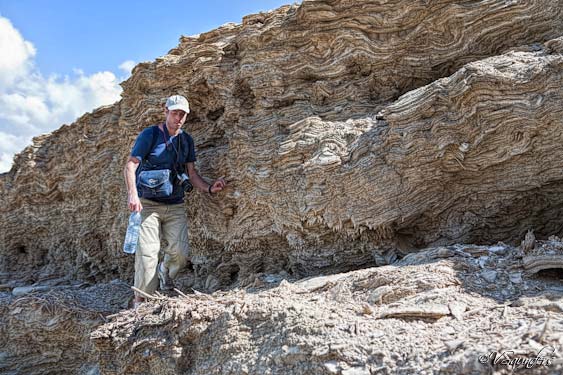 Pieter van Beek from Observatoire Midi-Pyrénées in Toulouse takes a look.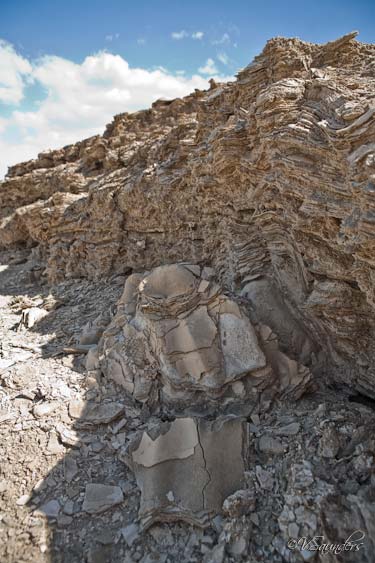 Here's a closer view.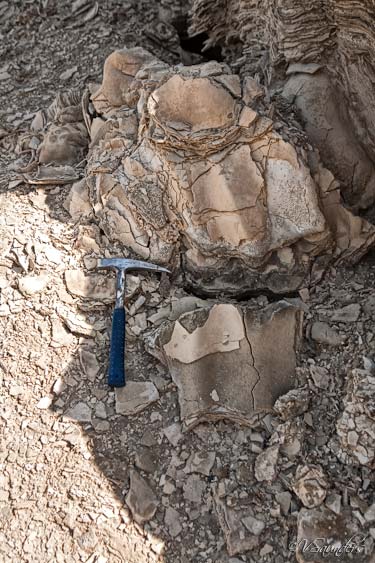 Even closer, with a geological hammer for scale.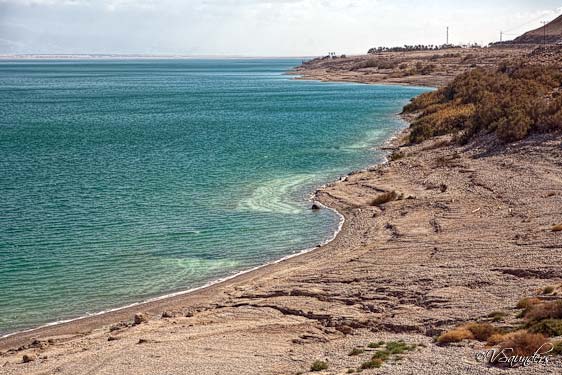 The Dead Sea has some of the most saline water on earth;
as much as 35% of the water is dissolved salts.
Sulfidic-rich springs discharge into the sea from various sites along the shoreline.
You can see the color shift in the water due to the difference in chemistry before mixing.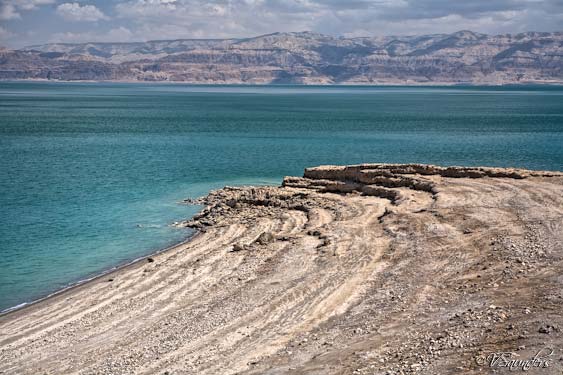 More of the same with a particularly good view of Jordan on the opposite shore.
No fish live in the Dead Sea.
Few life-forms, other than certain bacteria, can survive in such a harshly saline environment.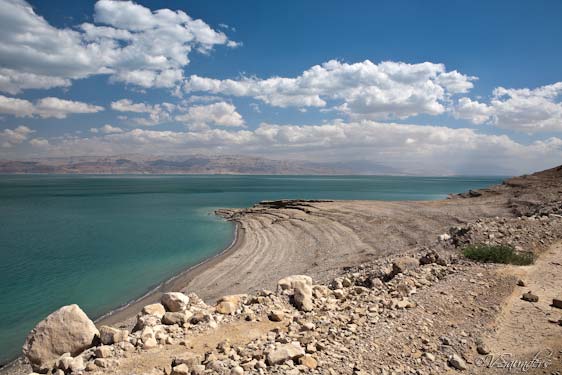 The sea was a rich and brilliant blue-green. It almost glowed.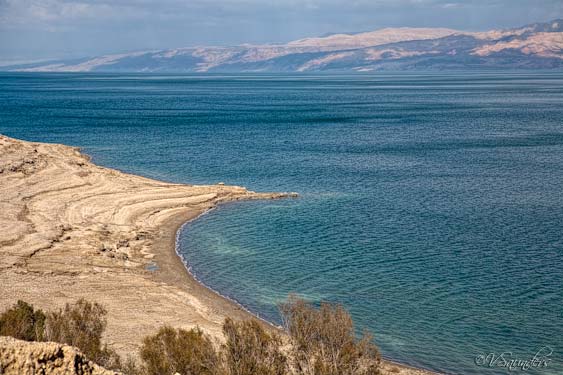 Another view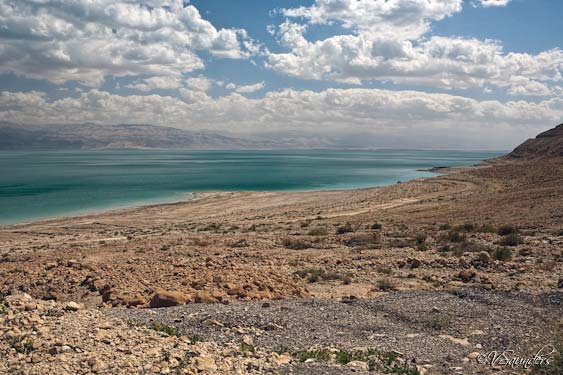 Hiking back to the road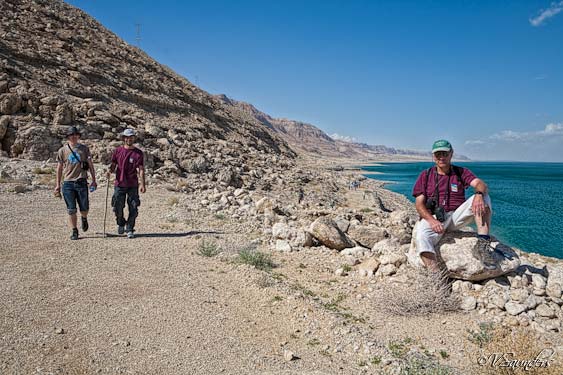 A long walk...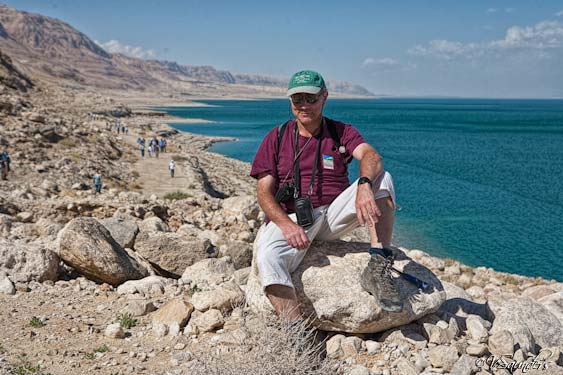 Dr. Yishai Weinstein, faculty member of Social Sciences, Department of Geography, Ramat-Gan, Israel. Yishai was a co-organizer of the Conference, working closely with Boaz.
Together, they did a stellar job!
The Masada plain. This was an amazing place! And we CLIMBED it!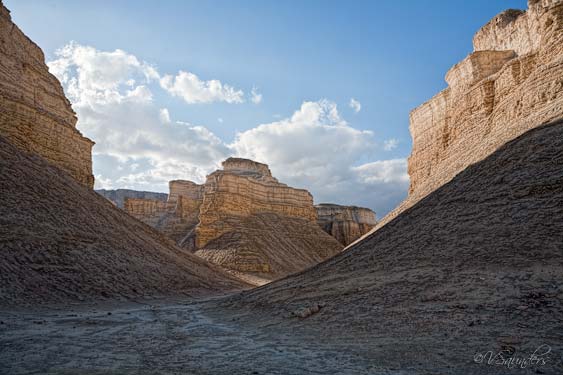 The Masada plain extends between the valleys of Nahal (Wadi) Ze'elim and Nahal Mor.
(If you really care, find a map.)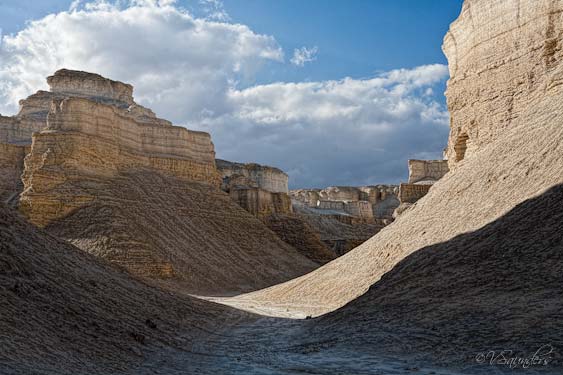 It is composed mainly of lacustrine and alluvial sediments deposited in the Dead Sea basin
during the late Pleistocene era. Or so I'm told.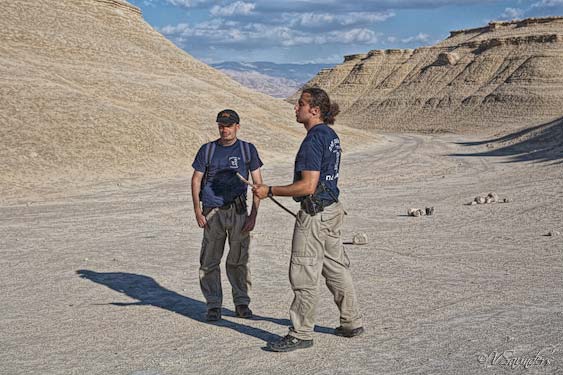 These were two members of our three-man (armed) security team.
They shadowed our group wherever we went.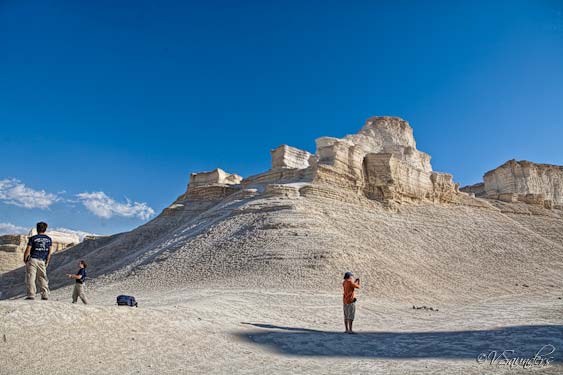 I absolutely loved this place.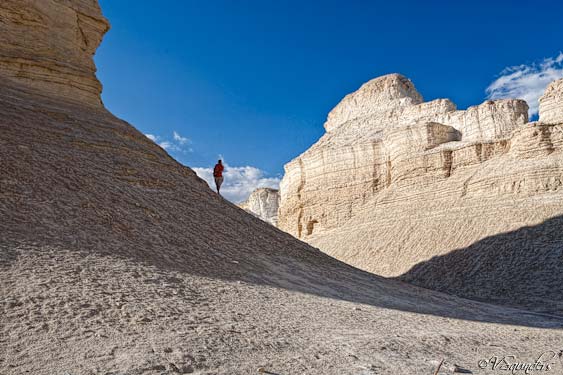 The light was particularly nice because it was late afternoon.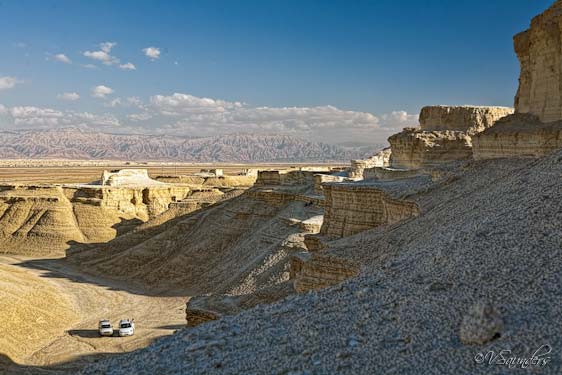 Ummm...they weren't kidding when they told us we needed to climb (and climb!) to get to a field site.
The two white vans below belonged to our group.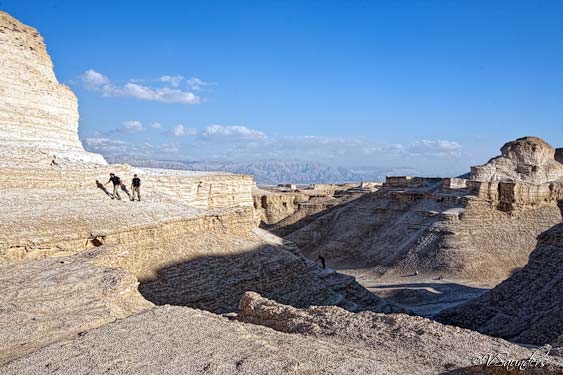 More climbing. These were two of the security guys.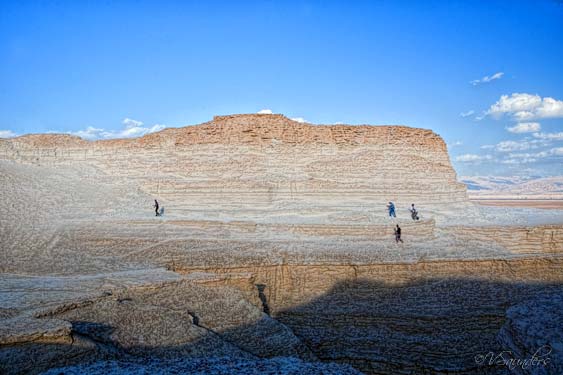 People spread out along the way.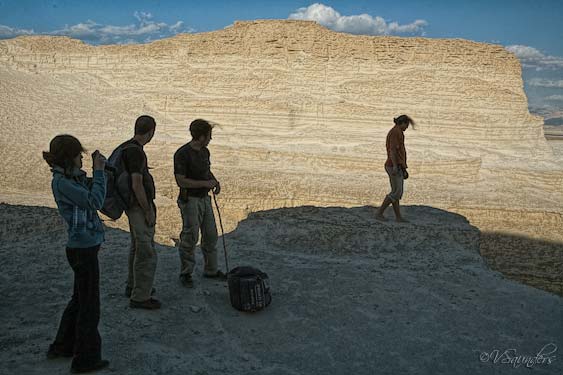 At the top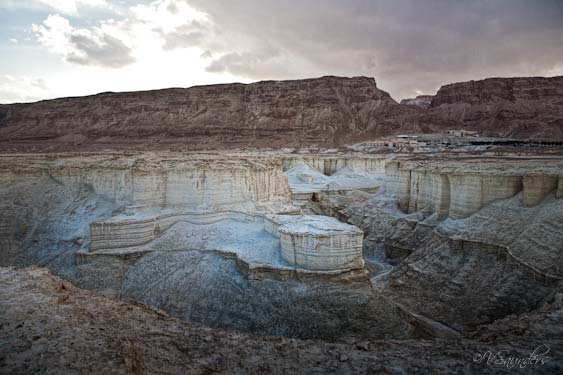 What a view!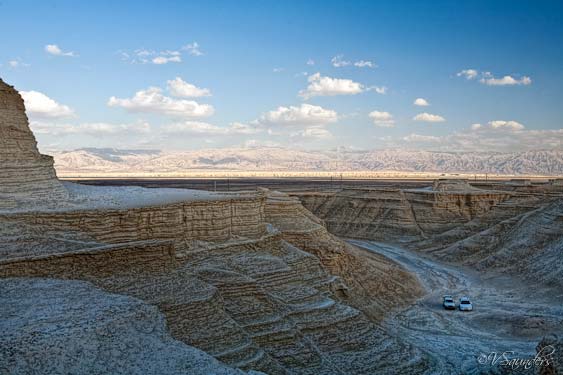 But it was getting late.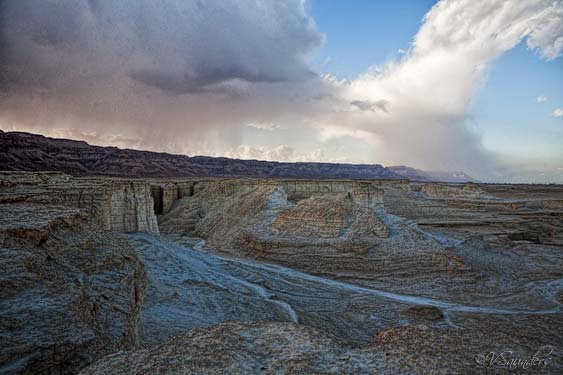 Storm clouds were building and moving in quickly. A beautiful sight, but a bit worrisome.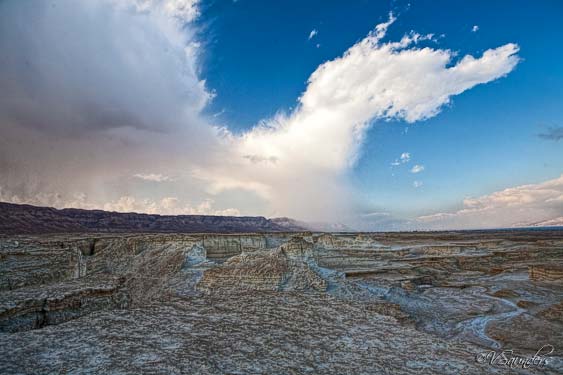 Coming down in the rain would have been tough going because the soil (mostly gypsum)
was very soft. We beat the rain.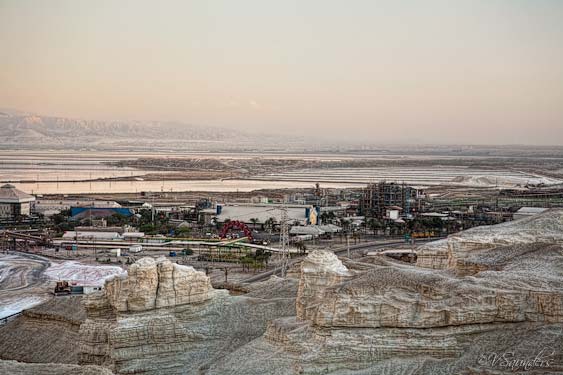 Our last site of the day, a potash factory.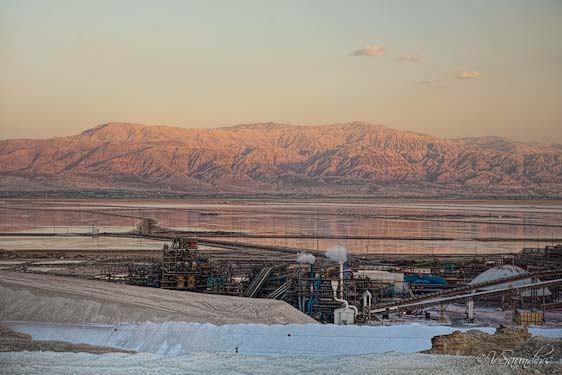 Dead Sea water is very rich in minerals such as sodium, potassium, calcium and magnesium
with associated chloride and sulfate. Or so I'm told.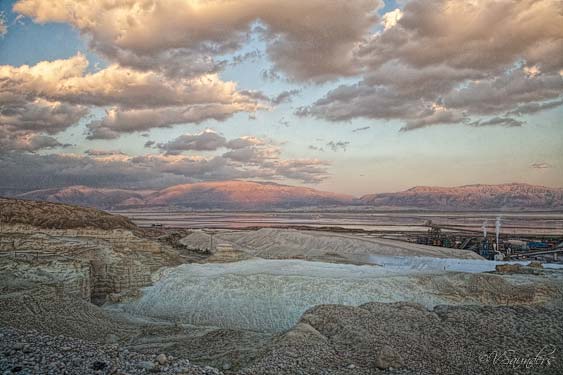 The factory extracts potassium for use in fertilizer.
Access was limited.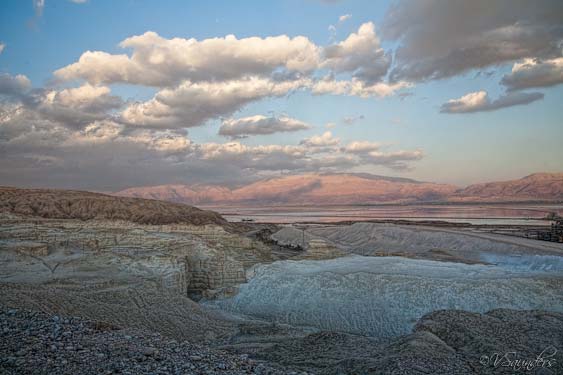 A final view before leaving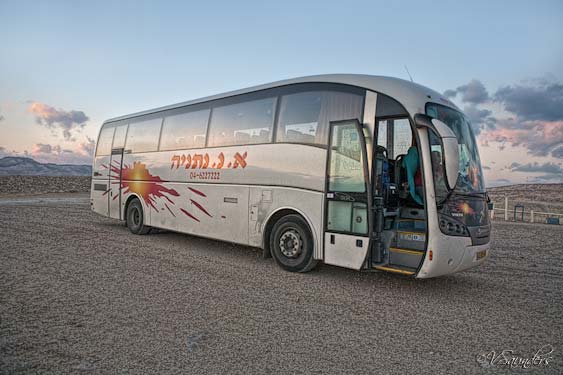 Our "chariot"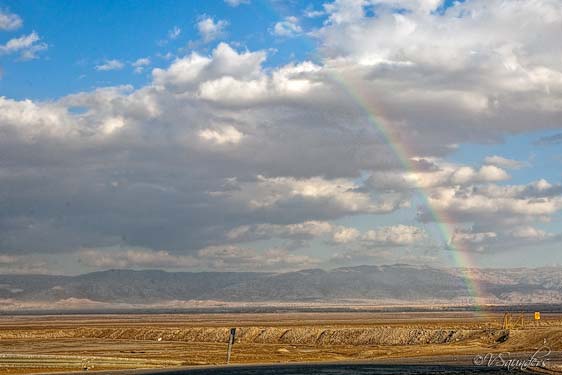 A fitting end to a wonderful day!
— Click here for Jerusalem photos —
---
©2002-2008 by Ginnie Saunders. All rights are reserved. No part of this web site may be reproduced or transmitted in any form or by any means — electronic or mechanical, including photocopying, recording, or by any information storage or retrieval system — without written permission from Ginnie Saunders. To learn more about copyright issues on the web, visit the Web Law FAQ.






Ginnie.com, Inc.
PO Box 50314
Columbia, SC 29250
(803) 783-3169
www.ginnie.com