"Frog Face"





He didn't believe me. I told him over and over, "Merlin, leave those frogs alone". But did he listen? Nooooooo, not Merlin. I warned him. I said, "Merlin, you keep messin' with those frogs, you gonna start lookin' like em." But did he listen? Nooooooo, not Merlin. He just kept sniffin' those frogs.


---
(This is a DaDane rerun. We are on vacation until June 1st.)

The Great Dane Links page has been revamped. It offers over 300 links, sorted by category for easy browsing. Categories include health & welfare, breeding & genetics, clubs & organizations, rescue resources, breeder directory, and personal pet sites. The GD Links page is updated every week with new links.


These drop-down menus should work with all browsers.
If you experience a problem, please visit the hypertext-based Archives & Directory.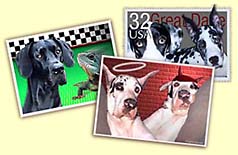 DaDane Postcards!
There are 70 cards now, including all the most recent DaDane pictures.
Send someone a DaDane postcard. It's virtually free!