These DaDane portraits are listed in reverse chronological order
This Week's DaDane
Wanshi Botanical Garden, Xiamen, China - Part 2
Last Week's DaDane
Wanshi Botanical Garden, Xiamen, China - Part 1
March 2010
More from Jerusalem
Dead Sea, Israel, Part 1
Jerusalem and Beyond
February 2010
Reflections
Magilla Gorilla
Views of Munich
Shanghai Spaniel
January 2010
Quake, at Rest
Bavarian Bachelorette Party
M&M Harley D's Havina Big Tyme
September – December 2009
Merry Christmas!
Views of Barcelona
Visiting Barcelona's Aquarium
Nice, France
Tallinn, Estonia
Anna, in Finland
July & August 2009
"Venice" in Marburg
Finland and Beyond
Back Online; Swiss Alps
A View from the Rinerhorn
June 2009
Visiting Zurich
A Great Dane in Zurich
Moving Along
Filter Fun
Our Resident Hedgehog
April & May 2009
Hello from Germany
Space Mountain Bacterium, Anyone?
March 2009
Back from Shanghai
Third Week in Shanghai
Another Week in Shanghai
Good Morning from Shanghai
Enzo & Ellie
January 2009
Cardinal Series
A New Presidency
Jessica
Farewell to Boo-Boo
December 2008
Their First Christmas
Airborne
Stepping Out
Puppies!
October & November 2008
New Work
La Boqueria
Halloween, Barcelona Style
Visions & Dreams
September 2008
Doonka
Mariano
Venice Montage
New Work
Bremen
August 2008
A Visit to Celle
August in Berlin
To Berlin, and Back
July 2008
Children of Hahvaykah
Oldenburg
Cloppenburg
June 2008
Charming Charm
Harle Kitsch-ens, revisited
Living in Germany
On the Road Again
May 2008
Granulomatous meningoencephalomyelitis
In Memoriam
Pimobendan for DCM
April 2008
New DCM Support Group
Harlequin
Venice in April
March 2008
Best of Breed, Dogs, Candids
Best of Breed, Dogs, Group 6
Best of Breed, Dogs, Group 5
Miss Charlotte, Alive & Well
February 2008
Windy Hill's The Archangel
Tiger Does Hollywood
"Tiger" Johnson
Best of Breed, Dogs, Group 4
January 2008
Best of Breed, Dogs, Group 3
Best of Breed, Dogs, Group 2
Best of Breed, Dogs, Group 1
A New Year Begins
Happy New Year
December 2007
Merry Christmas!
Predator Update
Coyote Carnage
November 2007
Award Winning DaDane
Regular Classes, Part 4
Regular Classes, Part 3
Regular Classes, Part 2
October 2007
Regular Classes, Part 1
Top 20
Best in Futurity
Best in Show!
Colras Full Attention Req'd v. CJ
September 2007
"High Four" Installed at Cleveland Park
CH Harley D Coral's Calypso
August 2007
Mystery Mantle
CH Longo's Starr Studded V Miller
CH Tally Ho Wolke Northern Dancer
Diamond Danes Tall Dark Handsome
July 2007
CH Sandale's Positively Priceless
Venice, Italy
On the Road Again
June 2007
Process of Elimination
Touring Prague, Part 2
Touring Prague, Part 1
Quincy
May 2007
Vienna: The Spanish Riding School
Gone to Prague
The Mad Hatters
Brookgreen Gardens, Part 4
April 2007
Brookgreen Gardens, Part 3
Brookgreen Gardens, Part 2
Brookgreen Gardens, Part 1
Hemangiosarcoma - Conclusion
Hemangiosarcoma - Grendel, Part 2
March 2007
Hemangiosarcoma - Grendel
Hemangiosarcoma - Circe
China Moon
Emma
February 2007
Hemangiosarcoma
Farewell to Grendel
Head Study
Farewell to Elmer
January 2007
Top 20, Part 4
Top 20, Part 3
Top 20, Part 2
Italy, Part 3
Happy New Year
December 2006
Merry Christmas!
Vader
Italy, Part 2
November 2006
Italy, Part 2
Happy Thanksgiving
2006 Top Twenty Invitational
Louise Peterson and National Photos
October 2006
2006 GDCA National
Eureka, We're in Topeka!
Best of Breed, Part 4
Best of Breed, Part 3
September 2006
Best of Breed, Part 2
Best of Breed, Part 1
Great Dane Haiku, II
Great Dane Haiku
August 2006
One Door Closes, Another Opens
The Ava Invasion
Ace of Hearts
Just Whisper
July 2006
Gator Bait?
Looking Back
Conformation Judging, Part 6
Conformation Judging, Part 5
Fourth of July
June 2006
Farewell to Fanny
"Great Dane Room" Gathering
Conformation Judging, Part 4
Conformation Judging, Part 3
May 2006
"Hell on Wheels"
Conformation Judging, Part 2
Conformation Judging, Part 1

April 2006
Enough, Already!
A Most Excellent Adventure
Girls Just Wanna Have Fun
March 2006
Unforgettable Moments
Everyone Loves a Parade
Hawaiian Botanicals
Maui Discovered
February 2006
Gone to Maui
Futurity, Part 6
Futurity, Part 5
Futurity, Part 4
January 2006
Newton and Merlen
Futurity, Part 3
Futurity, Part 2
Futurity, Part 1
Happy New Year

December 2005
MERRY CHRISTMAS
Obedience, Rally and Agility
Agility, Part 2
November 2005
Agility, Part 1
Best of Winners
Top Twenty, Part 3
Top Twenty, Part 2

October 2005
Top Twenty, Part 1
Photos from the 2005 National
At the 2005 GDCA National
Penelope's Portrait
2005 GDCA National Specialty
September 2005
Hurricane Dane
Rokadanes Vanessa
Hurricane Relief for Displaced Pets
Dog Days
August 2005
Market Day in Aix
Aix-en-Provence
Head Study
Hannah
Sam's Journey, Part 3
July 2005
Sam's Journey, Part 2
Sam's Journey, Part 1
Hector, A Follow-up
Hector, Revisited
June 2005
Dazed by the Daylilies
Home from Paris
More from Paris
Greetings from Paris
May 2005
Hector
Merlin
Oooh-la-la!
The Zebra Dane
April 2005
Laurs Lady Grace
Remember Murphy?
Exotic Beast, India
Homeward Bound
March 2005
Mauritius
More from India
Greetings from India
India, here we come!
February 2005
CH VZTop's Ivey of Seventh Heaven
Greenville Dog Show
Meet Big Red
Coral Loves Barclay
January 2005
Of Mice and Men
Thank you!
Dead Dogs Don't Cry
Important News
Christmas Ice Storm
December 2004
Merry Christmas
Happy Birthday, Merlin
Farewell to Sunny and Deke
November 2004
Danes versus Cows
Home Alone
BISS CH Wiedanes A Gala at Owlwatch
VZTop Amber N Onyx
Don Pepe Segundo
October 2004
Quincy
2004 GDCA National Specialty
The Apollo of Dogs
September 2004
We're Home!
Japan
Taipei
August 2004
Taiwan
Vietnam 3
Vietnam 2
Vietnam 1
July 2004
Hong Kong
Shanghai
Korea
Russia
June 2004
American Bald Eagle
Semester At Sea
Important Notice
Gone, But Not Forgotten
May 2004
Yummy!
It's Snack Time
I'm One Month Old!
Got Milk?
Pugnacious Puppies
April 2004
Feldmarschall Rommel
Puppies!
Bob Dylan, DaBlues & Toad Night
Sketch of Thor
March 2004
Luna's New Life
1040-DOG
And Who Are You?
Jumping Diva
Strange ApPEARances
February 2004
Uncle Bart
The First NOEL
Carolina Ice Storm, 2
Carolina Ice Storm, 1
January 2004
Jackie and Luna
Daneridge's Penelope Steele
Sheva, an Obedience Dane
Shall We Dance?
December 2003
Happy New Year!
Merry Christmas!
Their Very First Christmas
Study in Black and White
Gorgeous George, an Atypical AD Dane
November 2003
Addison's Disease in Danes
Canine Addison's Disease
Bleaugh!
White Puppy
October 2003
2003 GDCA National
Digital Montage
Two for One
Portrait in Black
September 2003
Bella and the Bug
High Four
Tess, Revisited
Labor Day Dane
August 2003
Portrait of Tess
Farewell to Maggie
Mozart
July 2003
Houston Slide Show
Gabbie
Holding Down the Fort
Peyton's Place
June 2003
da-Merlin-mobile
Fear Factor
Bad Nelson!
Bloat: Overcoming the Odds
What is GDV?
May 2003
Gambler's Journey
Gaysie Mae
Zippity-Doo!
Puppy Study
April 2003
I See Spots!
Bunny Ears
Bufo occiput
Toad Night
March 2003
Bufo terrestris
Cygnus dadaneias
Merlin, My Protector
Portrait of Deity
Da Llama
February 2003
Portrait of Krueger
Ingrid's Birthday
Portrait of Electra
Caesar Revisited
Space Shuttle Columbia
January 2003
High Four!
Old Friends
Puppy Pics!
Farewell to Hamlet
Happy New Year!
December 2002
Merry Christmas
Not all Grinches are Green
The 2002 Eu-DDC Champion
Euro Dane, Euro Dog, Part 2
November 2002
EuroDane
EuroDog
The Cheetah Dane
October 2002
Glory
We're Back!
Candid Camera
It's Show Time!
September 2002
Calling All Angels
Weezie's Walkies
Wide-Eyed Innocence
September 11, 2002
Ophie's Field of Dreams
August 2002
Double Trouble
Rogue's Gallery
UnFURgettable
Bring in the Clowns
July 2002
Farewell to Doogan
Couch Potatoes
DCM is Not a 4-Letter Word
DCM in the Great Dane
Broken Hearts, Broken Dreams

June 2002
Gone in a Phlash
Play Ball
Farmer Dane
Lost in Space

May 2002
Memorial Day, 2002
In Dog We Trust
Ch. Rokadanes Quincy
Tongue Twister
April 2002
Teacup Dane
Triple Portrait of Dusty
What our Dogs use for Money
Black Velvet
Operation Hoover
March 2002
1040-DOG
Brindle "Stripe" Tease
The Gardener's Handy Helper Tool
Onyx Brindle
February 2002
What's in a Name?
Blue Eyes, Stormy Skies
Blue Eyes, Blue Skies
Jabber's Health Problems
January 2002
He's Running Free
Westminster, here we come!!
Year in Review
December 2001
The Real Rudolph
Oh, Christmas Tree!
Patriotic Postage Stamps
Striking a Pose
November 2001
Click on Rudolph's Nose!
Profile of a Brindle
Veteran's Day Dane
Always Waiting, Always Watching
October 2001
Lady Liberty
The Party's Over!
2001 GDCA National
Standing Proud
It's Showtime!
September 2001
Jabberwocky
September 11, 2001
Unexpected Side Effect
Farewell to Summer
August 2001
Meet Dik, from Slovenia
Gorgeous George
Fish Story
Happy News!
July 2001
He Dodged Another Bullet
He's Hanging in There!
In Memory of Denali
How Now, Harle Cow?
Independence Day Danes
June 2001
Titan found his home...
Stranger in a Strange Land
Jabber's New Boots
Farewell, DaHumph
May 2001
The Gardener's Handy Helper Tool
May Flowers
Frog-Face
Mr. Big Is Back!
April 2001
Home Sweet Home
Jabber Is Home
Easter Dane
Canine Tax Form
Unwanted Guests
March 2001
Another Pretty Face
Three Surgeries in Two Weeks
Unexpected Complications
Home Alone
February 2001
My Gentle Mantle
Triple Treasure, Double Portrait
The Lost Valentine
New Year Resolutions for Dane Owners
January 2001
Unjustly Accused!
Pajama Party
Farewell, Sweet Petunia...
New Year Resolutions
December 2000
Merry Christmas!
Their Very First Christmas
Not all Grinches are Green
What a Guy!
Click on Rudolph's Nose
November 2000
Thanksgiving Turkeys
Tigger-Tiger
Doogie-Doggie
October 2000
It's HOWL-oween!
Best In Futurity
What a Yawn
It's Showtime!
September 2000
Lean On Me
Going for the Gold
It's all relative...
Labor Day Dane
August 2000
I'm so Blue, Waiting for You
Devil Dog
Take Me Home
Gefleckte Doggen
July 2000
Endangered Species?
Voted Out!!!
Big Bully Swan
Kaleidoscope Dane
Happy Fourth!
June 2000
Sleep Show
A "Jowly" Pair
Pleased to meet you...
Treasure Hunt
May 2000
Florina
Eine Blaue Deutsche Dogge
Strangers in the Night
Frog Nose
The Patriot
April 2000
Funny Bunny
Arizona Desert Dogs
Where's the beef?!
Spring has arrived!
March 2000
Double Portrait of Gambler
Elmer's Story
The 1040-DOG Tax Return
The Nose Knows
February 2000
The March of Time
Presidents' Day
The Stowaway
It's a long story
January 2000
Eeenie, meeenie...
A Natural Beauty
A Fawnequin named Jake
– 1999 –
Model of Nobility
The Real Rudolph
Visiting Santa
A Boston by any other name...
Double Portrait of Rosa
Thanksgiving Turkeys
Almost a Pupsickle
Sleep without Dreams
Brindle Portrait
Happy Halloween
It's Showtime!
Teacup Dane
In Memorium
Creation Story
DaDane T-shirts
Crop Failures
Sunset Colony
Danehenge
We're not in Kansas
Apollo 11
Relax!
Camera Shy
Kaleidoscope Hound
Where's Leon?
The Last Straw
DaneFest '99
Leon's Story, Part 3
Leon's Story, Part 2
Leon Redbone
In Memorium
Guardane Angel
Dangerous Weather
The Easter Dane
The Magical Merle
Iditarod / Idanerod
The Birth of Venus
1040-DOG Tax Return
Pyramid Scheme
President's Day
Kissin' Cousins
Gentz
Fawn-tastic!
Brindles Are Beautiful
The Gentle Giant
Snow Baby
– 1998 –
Merry Christmas!
Happy HoliDanes
Oh! Christmas Tree!
Click on Rudolph's Nose
Thanksgiving Study
Beauty & The Beast
Birdhouse Buddy
Mirage
Trick or Treat
Snacking on No-No's
The Winners
The BIG Show, 1998!
1998 GDCA National
Double Take
Labor Day Dane
Hurricane Warning
Couch Potatoes
Quotable Quips
Checklist Update
Natural Choice
Zoot Suit
Hot Dogs
Harle Kitsch-ens
Unexpected Side Effect
Tick Fever
Merlin's Summer Vacation
Love Sick
Harlettes
Insomnia
Frog Face
Pachyderm Puppy
Fish Story
Rabid Raccoon?
Tattle-Tale
Mother's Day
Easter Bunny
Spring Cleaning
Big Night Out
Monkeying Around
Watchdog
El Niño
Vada's Valhalla
Presidents Day
The Squirrel
Mrs. Willy
Willy's Woes
Gulliver's Travels
Rise & Shine
– 1997 –
Fresh New Year
New Year's Eve
The Real Rudolph
Visiting Santa
Family Traditions
Checklist Update
Fluffy's Feast
Snow Storm
Bedtime Story
Wreaking Havoc
It's HOWL-oween!
We're Home
It's Show Time!
AlterEgo
What is it?
Great Dane Stamp
The Baron
Killer Kittens
Chasing Chompers
Epiphany
Announcing DogWare!
Bear? What Bear?
Checklist Update
Martian Water Story
Kitty Cones II
Oh, DaEar!
Happy Fourth!
Fugitives
Dog Walk
Farmer Dane
Squirrel Stew
Great Pets
Cat Dreams
May Flowers
DaDane Postcards
Birthday Party
Frog Fixation
The Boston Monument
The Dane-Bopp Comet
The Easter Dane
Dog versus Man: Act II
Wendy's Birthday
The Cloning Controversy
Next Stop: Brisbane
Dog versus Man
American Tourists
Farewell to Stroppy
Stroppy the Roo
One Kangaroo Came Back
Back from Oz
– 1996 –
Gone to Oz
DaDane's Eye View: Thanksgiving
The Divine Dane
Dane Portrait with Person
Halloween
Puppy Food
Ophie's Field of Dreams
Kitty Cones
Surprise Visit
Hurridane Party
A Sad Farewell to Summer
Great Danimals: Antilocarpa emillinskis
On The Road Again
Queensland: Kingham Family Portrait
Still Looking for Queensland
Canine Olympic Events: Hurdles and Boinging
Apollo 11: The Real Story
Looking for Queensland
Sunnyside's Scrambled Eggs
Fourth of July Picnic


Don't miss the other sections of this web site!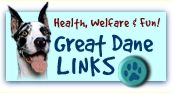 Great Dane Links Directory
Over 1000 links for health, training, finding breeders and Dane welfare issues


"Put on the Dog" at DogWare
Now you can put on the dog! You can even put on DaDane!




The Dane Owners Checklist
What is it really like to own a Great Dane? Better take a look.
This is a humorous site, but it also includes a comprehensive directory page
of links to other Great Dane web sites.



Commercial Illustrations
If you've wondered how I make my living, visit these pages.
And you can visit other web sites I designed.
---
©2002-2008 by Ginnie Saunders. All rights are reserved. No part of this website may be reproduced or transmitted in any form or by any means — electronic or mechanical, including photocopying, recording, or by any information storage or retrieval system — without written permission from
Ginnie Saunders
. To learn more about copyright issues on the web, visit he
Web Law FAQ
.

Ginnie.com, Inc.
PO Box 50314
Columbia, SC 29250
(803) 783-3169
www.ginnie.com