"Insomnia"



Penelope thought she picked the perfect place in the puppy pile, until her sisters started snoring.


(DaDane of the week is updated with a new illustration and story every Monday.)





The Great Dane Links page has been revamped. It offers over 350 links, sorted by category for easy browsing. Categories include health & welfare, breeding & genetics, clubs & organizations, rescue resources, breeder directory, and personal pet sites. The GD Links page is updated every Monday with new links.


These drop-down menus should work with all browsers.
If you experience a problem, please visit the hypertext-based Archives & Directory.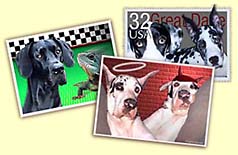 DaDane Postcards!
There are 70 cards now, including all the most recent DaDane pictures.
Send someone a DaDane postcard. It's virtually free!