"Harlettes"



It's true. At the beginning of the summer, as soon as classes end, many young men rush off to Los Angeles in hopes of meeting gorgeous young Hollywood starlets. Not Tigger. He has more sense than that. He went to LA to see the gorgeous young Hollywoof harlettes.


(DaDane of the week is updated with a new illustration and story every Monday.)





DaDane's "Great Dane Links" now offers over 375 links, sorted by category for easy browsing. Categories include health & welfare, breeding & genetics, clubs & organizations, rescue resources, breeder directory, and personal pet sites. The GD Links page is updated every Monday with new links.


These drop-down menus should work with all browsers.
If you experience a problem, please visit the hypertext-based Archives & Directory.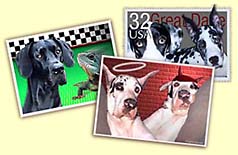 DaDane Postcards!
Just updated! There are 75 cards now, including the most recent DaDane pictures.
Send someone a DaDane postcard. It's virtually free!