"Love Sick"



She met him only once, but Harley couldn't stop thinking about him. He was the most beautiful creature she'd ever seen. When they were introduced, she was tongue-tied. She smiled and looked away. She didn't know what else to do. If only she'd had the courage to speak. She should have offered him a dog biscuit. Instead she turned and fled the room.



Moments later she came back to the party, determined to speak to him. "I mustn't let this opportunity slip through my paws," she thought. But alas, he was gone. Was it all a dream? Will she ever see him again?


(DaDane of the week is updated with a new illustration and story every Monday.)





DaDane's "Great Dane Links" now offers over 400 links, sorted by category for easy browsing. Categories include health & welfare, breeding & genetics, clubs & organizations, rescue resources, breeder directory, and personal pet sites. The GD Links page is updated every Monday with new links.


These drop-down menus should work with all browsers.
If you experience a problem, please visit the hypertext-based Archives & Directory.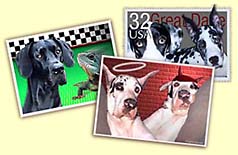 DaDane Postcards!
Recently updated! There are 75 cards now, including the most recent DaDane pictures.
Send someone a DaDane postcard. It's virtually free!