"Merlin's Summer Vacation"



With the official arrival of summer, Merlin is a happy dog. A very happy dog. He loves summer and he especially loves going to the beach. We asked him why he's always pestering us to take him to the beach. What's the attraction? After all, he doesn't even like to swim.



"Well, you know I just love the ocean. It smells good. It feels good. It even sounds good. I love listening to the surf. And there's so much to look at! I love watching the waves. I love watching the birds flying overhead. And then there's all that sand. I love digging in the sand."



"But Merlin, let's be honest, aren't you really just interested in the babes?"



"Babes, what babes?"


(DaDane of the week is updated with a new illustration and story every Monday.)





DaDane's "Great Dane Links" now offers over 400 links, sorted by category for easy browsing. Categories include health & welfare, breeding & genetics, clubs & organizations, rescue resources, breeder directory, and personal pet sites. The GD Links page is updated every Monday with new links.


These drop-down menus should work with all browsers.
If you experience a problem, please visit the hypertext-based Archives & Directory.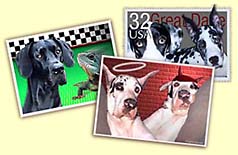 DaDane Postcards!
Recently updated! There are 75 cards now, including the most recent DaDane pictures.
Send someone a DaDane postcard. It's virtually free!