"Unexpected Side Effect"



Last week something strange happened to Otis. Instead of his monthly heartworm pill, Mrs. Smith accidently gave him her husband's monthly Viagra pill. Within an hour, Otis underwent a bizarre transformation.



Mrs. Smith was frantic. She called the Pfizer Hotline to find out what to do. The friendly folks at Pfizer had never heard of this side effect, but they were very reassuring. "Don't do a thing," they advised. "Within a few hours, his ears should settle back down."


(DaDane of the week is updated every Monday with a new illustration and story.)


These drop-down menus should work with all browsers.
If you experience a problem, please visit the hypertext-based Archives & Directory.



Recommended Links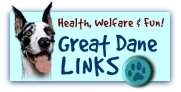 DaDane's "Great Dane Links" now offers over 500 links, sorted by category for easy browsing. Categories include health & welfare, breeding & genetics, clubs & organizations, rescue resources, breeder directory, and personal pet sites. New links are added every Monday.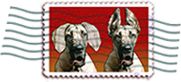 Free DaDane Postcards!
There are 80 electronic postcards now, including the most recent DaDane pictures. Send someone a DaDane postcard. It's virtually free! Also available: E-male postcards and FeMail postcards.

Elizabeth's Page was recently updated. Please pay a visit.