"Checklist Update"



How do you know you own a Great Dane? Let me count the ways... over the past two years, visitors to our website have contributed over 200 sure-fire indicators to help you decide whether or not your dog is a Great Dane. We now offer six newly edited pages worth of valuable insights into Great Dane ownership. To see the latest and the greatest, visit the updated Dane Owners Checklist.


(DaDane of the week is updated every Monday with a new illustration and story.)

These drop-down menus should work with all browsers.
If you experience a problem, please visit the hypertext-based Archives & Directory.



Recommended Links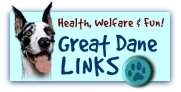 DaDane's "Great Dane Links" now offers over 500 links, sorted by category for easy browsing. Categories include health & welfare, breeding & genetics, clubs & organizations, rescue resources, breeder directory, and personal pet sites. New links are added every Monday.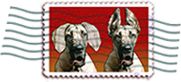 Free DaDane Postcards!
There are 80 electronic postcards now, including the most recent DaDane pictures. Send someone a DaDane postcard. It's virtually free! Also available: E-male postcards and FeMail postcards.