"Labor Day Dane"



Bruno's worked hard at being a dog all summer. He's put up with heat, fleas, flies, and mosquitos. He's gone after every cat and squirrel he's seen. He's barked at every stranger who dared to set foot in the yard, including the mailman.



The Mailman. Now that's the worst. Talk about endless work. Six days a week, week after week, month after month, and that darn mailman keeps coming back. One thing's for sure, Bruno needs a break from the grind.



So he's taking time off to kick back and enjoy the long Labor Day holiday. For Bruno that means hanging out on the porch. Sure, he'll still raise his head when he sees a squirrel or cat saunter by, but he's not obligated to chase 'em. Nope. Not while he's on vacation. Heck, maybe he'll take the whole week off. He deserves it.


(DaDane of the week is updated every Monday with a new illustration and story.)

These drop-down menus should work with all browsers.
If you experience a problem, please visit the hypertext-based Archives & Directory.



- Recommended Links -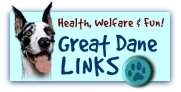 DaDane's "Great Dane Links" now offers over 600 links, sorted by category for easy browsing. Categories include health & welfare, breeding & genetics, clubs & organizations, rescue resources, breeder directory, and personal pet sites. New links are added every Monday.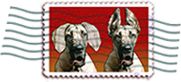 Free DaDane Postcards!
There are 80 electronic postcards now, including the most recent DaDane pictures. Send someone a DaDane postcard. It's virtually free! Also available: E-male postcards and FeMail postcards.