"Double Take"



Barry and Harry have two heads. They don't mind, though. In fact there are definite advantages. They always have someone nearby to talk to. They never have to eat alone. A crumb on the floor? Why with four eyes and two noses it doesn't last long, although admittedly they sometimes fight each other for it.



All in all, life is good. One of them can sleep while the other keeps an eye out for intruders. And anybody daring to ring the doorbell is met with twice the bark. While taking a walk, Barry and Harry get twice the attention from bystanders. They like that. Nobody makes that stupid saddle comment, either. They admit their feelings were a little hurt when someone told them they resemble a hammerhead shark. "We took that in stride, though." said Harry. "Yeah," Barry added, "the guy didn't know what he was talking about. Some people are just ignorant."


(DaDane of the week is updated every Monday with a new illustration and story.)

These drop-down menus should work with all browsers.
If you experience a problem, please visit the hypertext-based Archives & Directory.



- Recommended Links -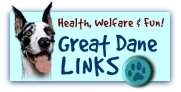 DaDane's "Great Dane Links" now offers over 600 links, sorted by category for easy browsing. Categories include health & welfare, breeding & genetics, clubs & organizations, rescue resources, breeder directory, and personal pet sites. New links are added every Monday.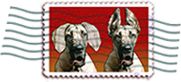 Free DaDane Postcards!
There are 80 electronic postcards now, including the most recent DaDane pictures. Send someone a DaDane postcard. It's virtually free! Also available: E-male postcards and FeMail postcards.