"1998 GDCA National"



The Great Dane Club of America's 1998 National Specialty is right around the corner. This year's event, hosted by the South Central Division, is being held in Ft. Worth, Texas. Official activities begin on Tuesday, October 6 and run through Sunday, October 11.



You don't want to miss this show. Everyone is welcome, and you'll have the opportunity to see North Americia's top Great Danes competing in various events all week long. Last year's National featured over 300 Great Danes!



For more information, visit the offical 1998 GDCA National Specialty web page.


(DaDane of the week is updated every Monday with a new illustration and story.)

These drop-down menus should work with all browsers.
If you experience a problem, please visit the hypertext-based Archives & Directory.



- Recommended Links -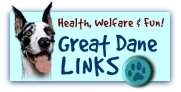 DaDane's "Great Dane Links" now offers over 600 links, sorted by category for easy browsing. Categories include health & welfare, breeding & genetics, clubs & organizations, rescue resources, breeder directory, and personal pet sites. New links are added every Monday.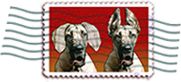 Free DaDane Postcards!
There are 80 electronic postcards now, including the most recent DaDane pictures. Send someone a DaDane postcard. It's virtually free! Also available: E-male postcards and FeMail postcards.