"Beauty & The Beast"



Often called the "Apollo of Dogs," Great Danes are known for their extraordinary grace, dignity, intelligence and poise. Tony Tulloch's "Star" (pictured above) exemplifies these very qualities that make Great Danes so special.



To celebrate the beauty of Great Danes, the Great Dane Mailing List is producing a special edition screensaver. The "Official GDML Screensaver" is being created by John Tolar. John is generously donating his time to produce what will surely be a masterpiece. The GDML screensaver will feature random photos of Great Danes, with captions identifying each dog. Anyone wishing to contribute photos of his or her Great Dane is invited to send them to John at screensaver@ccspro.net. You need not be a member of the GDML to submit your pictures. Photos should be 30k or less.



The GDML screensaver will be sold for a nominal donation to a tax free fund. This fund will distribute 100% of the proceeds to Great Dane rescue organizations. (Details are being worked out.) The screensaver will be ready for distribution in about a month. Email John Tolar to reserve your copy.




These drop-down menus should work with all browsers.
If you experience a problem, please visit the hypertext-based Archives & Directory.



- Recommended Links -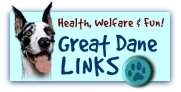 DaDane's "Great Dane Links" now offers over 700 links, sorted by category for easy browsing. Categories include health & welfare, breeding & genetics, clubs & organizations, rescue resources, breeder directory, and personal pet sites. New links are added every Monday.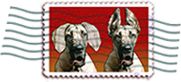 Free DaDane Postcards!
There are 80 electronic postcards now, including the most recent DaDane pictures. Send someone a DaDane postcard. It's virtually free! Also available: E-male postcards and FeMail postcards.