"Click on Rudolph's Nose"



Rudolph the Red-nosed Danedeer and his furry friends invite you to visit the new DogWare store. We've recently expanded -- we now offer over 25 DaDane designs. Not only that, but your favorite DaDane picture can be printed on sweatshirts, as well as three styles of t-shirts.



We've brought our production in-house, which allows us to drop prices and deliver the goods faster. The latest imprint technology allows your shirt to be printed as soon as it's ordered. 100% cotton t-shirts now start at just $16, which means big savings -- just in time for the holidays. And we've even added a second shirt color.



If there's a DaDane picture you want that isn't offered in the line-up, just email us. Chances are we can produce your shirt. We can even make custom shirts using your own photograph.



DaDane of DaWeek has been entertaining its visitors for over two and a half years. If you've been enjoying the weekly DaDanes, show your support (and good taste) by purchasing a DaDane of DaWeek t-shirt!


(DaDane of the week is updated every Monday with a new illustration and story.)

These drop-down menus should work with all browsers.
If you experience a problem, please visit the hypertext-based Archives & Directory.



- Recommended Links -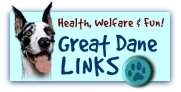 DaDane's "Great Dane Links" now offers over 700 links, sorted by category for easy browsing. Categories include health & welfare, breeding & genetics, clubs & organizations, rescue resources, breeder directory, and personal pet sites. New links are added every Monday.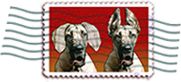 Free DaDane Postcards!
There are 85 electronic postcards now, including the most recent DaDane pictures. Send someone a DaDane postcard. It's virtually free! Also available: E-male postcards and FeMail postcards.