"Oh, Christmas Tree!"



Every year, as soon as their masters get out that box of tree ornaments, Great Danes start bouncing up and down in anticipation of their favorite seasonal event -- the dressing of the Christmas tree. They eagerly assist with the decorating, saving the best spots on the tree for their most cherished ornaments. You can always tell when you encounter a tree decorated by a Great Dane. The ornaments begin at a height of 36" -- just above the tail line.



Most Great Danes are eager to participate in other holiday activities, too. They like to sing Christmas carols. They love to play with the gift wrap. They readily volunteer to help with the kitchen chores. (Because of their unusual height, it is very easy for Great Danes to stir the cookie batter.)



But there is one Christmas chore that should be strictly off-limits for Great Danes. No matter how many times they volunteer, you mustn't allow them to water the Christmas tree.


(DaDane of the week is updated every Monday with a new illustration and story.)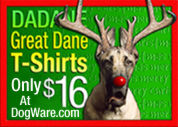 There's still time to place your order. Delivery is FAST!!!

These drop-down menus should work with all browsers.
If you experience a problem, please visit the hypertext-based Archives & Directory.



- Recommended Links -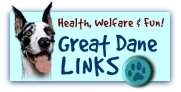 DaDane's "Great Dane Links" now offers over 700 links, sorted by category for easy browsing. Categories include health & welfare, breeding & genetics, clubs & organizations, rescue resources, breeder directory, and personal pet sites. New links are added every Monday.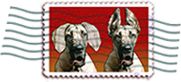 Free DaDane Postcards!
There are 90 electronic postcards now, including the most recent DaDane pictures. Send someone a DaDane postcard. It's virtually free! Also available: E-male postcards and FeMail postcards.