"Fawn-tastic!"



This week's DaDane is a portrait of a lovely fawn named Jack. Jack lives in sunny California with his owner, Bill Woods. Bill kindly donated Jack's photo for use in the new series that will feature the different coat colors of Great Danes.



The illustrations you see here each week begin with pictures contributed by visitors to this website. Without these photos, there would be no DaDane of DaWeek. To create this special color series, I'll need some additional photographs to work from. If you are interested in donating a photo for possible use, please email me at ginnie@ginnie.com.



Please do not send me any attachments. Over the past week I've been deluged with jpeg attachments of Great Danes. (And I do mean deluged!) Though I have enjoyed seeing so many different Danes, I can't use any of these scans. In short, I need the originals. It is essential that I work from photographic images of the best possible quality. To accomplish this, I must scan sharp, clear photographs at high resolution on my own scanner. If you would like to send photos for consideration, please email me for my mailing address. Or scroll to the bottom of this page and use the address under the logo at the right.



I want to thank everyone who took the time to answer my call for photos last week. I am trying to answer you all, but it is taking some time. Please be patient with me.

(DaDane of the week is updated every Monday with a new illustration and story.)

These drop-down menus should work with all browsers.
If you experience a problem, please visit the hypertext-based Archives & Directory.



- Recommended Links -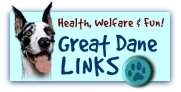 DaDane's "Great Dane Links" now offers over 700 links, sorted by category for easy browsing. Categories include health & welfare, breeding & genetics, clubs & organizations, rescue resources, breeder directory, and personal pet sites. New links are added every Monday.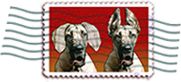 Free DaDane Postcards!
There are 90 electronic postcards now, including the most recent DaDane pictures. Send someone a DaDane postcard. It's virtually free! Also available: E-male postcards and FeMail postcards.