"DaneFest '99!"



On Sunday, June 6, we hosted DaneFest '99. It was great fun! We were expecting 36 people, 22 Danes, and 6 non-Danes. Due to last minute cancellations and a few no-shows, we ended up with 25 people, 16 Danes and 3 dogs, including an Irish Wolfhound -- more than enough for a good time!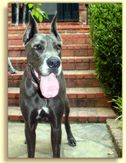 The vans started rolling in around noon. Along with their Danes many people brought extra food, which enabled the humans to enjoy a delicious spread while the dogs dined on homemade liver cookies generously provided by one of the guests. (Don't miss Emily's DaneFest photopage. Her owner, Paul, was the cookie man.)



The Danes romped for a good three hours. Since most dogs can't resist the lure of water, especially on a hot summer day, our 8-acre pond was the focal point. Three blacks, three blues, and assorted harle variations jumped, splashed and fetched with great abandon. By the end of the day, most of the dogs were wet, muddy and tired. For that matter, so were their owners.



The funniest quip of the day came from my husband. The conversation went something like this:


"Nice place. How long have you lived here?"



"About 15 years."



"How long have you had the Danes?"



"Well, most of them arrived today."
(DaDane of the week is updated every Monday with a new illustration and story.)

These drop-down menus should work with all browsers.
If you experience a problem, please visit the hypertext-based Archives & Directory.


- Recommended Links -
DaDane's "Great Dane Links" now offers over 700 links, sorted by category for easy browsing. Categories include health & welfare, breeding & genetics, clubs & organizations, rescue resources, breeder directory, and personal pet sites. New links are added every Monday.

Free DaDane Postcards
There are 95 electronic postcards now, including the most recent DaDane pictures. Send someone a DaDane postcard. It's virtually free! Also available: E-male postcards and FeMail postcards.

DaDane T-shirts
Your favorite DaDane postcard pictures are now available on t-shirts, turtlenecks, and sweatshirts. Please visit our DogWare website to see the latest designs. These shirts make great gifts!