Every once in awhile someone sends me a really special photo. I've been saving this week's headline for just the right picture, and when David Shough sent me Hermia and Helena, asleep on their couch, I knew I had found the inspiration I've been waiting for.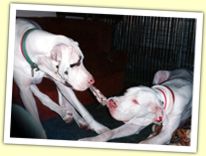 Hermia (left) and Helena (right) were littermates. Like many predominently white Danes, Hermia is deaf. Not only that, when she was still a puppy her eyes stopped growing. They stayed very small. This makes seeing a challenge, particularly since her pupils are partially covered by the third eyelid. Though she is not blind, Hermia is visually impaired.



None-the-less, Hermia is a cheerful, well-adjusted dog. She even watches television. (But only certain shows.) Hermia and Helena live with another Great Dane, too. Their older sister, Miranda, is an unrelated black rescue.



It is a real pleasure to be able to show you a "disabled" Dane who found a caring home where she is greatly loved. There are many deaf and blind Danes who've not been so lucky. Many end up in rescue. (Or worse.) If you or anyone you know might be interested in adopting a needy Dane, please visit my Great Dane Rescue Page.
To order a "A Day without Danes is like Sleep without Dreams"
t-shirt or sweatshirt, go to www.DogWare.com


These drop-down menus should work with all browsers.
If you experience a problem, please visit the hypertext-based Archives & Directory.


- Recommended Links -
DaDane's "Great Dane Links" now offers over 900 links, sorted by category for easy browsing. Categories include health & welfare, breeding & genetics, clubs & organizations, rescue resources, breeder directory, and personal pet sites. New links are added every Monday.

Free DaDane Postcards
There are over 100 electronic postcards now, including the most recent DaDane pictures. Send someone a DaDane postcard. It's virtually free! Also available: E-male postcards and FeMail postcards.

DaDane T-shirts
Your favorite DaDane postcard pictures are now available on t-shirts, turtlenecks, and sweatshirts. Please visit our DogWare website to see the latest designs. These shirts make great gifts!