I doubt many of you have seen a Fawnequin in person. This is 10-month-old Jake. He is the product of a mixed color breeding; consequently his coat color "violates" the Great Dane Standard. Jake could never be shown in the conformation ring, but he is a wonderful pet.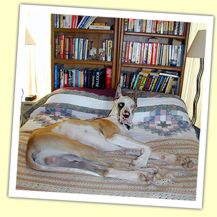 Jake lives in California with his owner, Analyn Kelsey. He shares his house with two other Great Dane rescues, a tea-cup poodle and several cats. He is healthy, happy, and very friendly.



Analyn acquired Jake from a breeder in Charleston, SC. Jake's mother was a Harlequin. Arrangements had been made to have her bred to a champion Harlequin, but before that could happen, Jake's mother was accidently impregnated by a "chocolate" Great Dane, which is yet another unusual coat color. (Eeek!)



Jake's breeder contemplated terminating the pregnancy, but she finally decided to follow through with the litter. Six puppies were born -- two Merles, a dark Fawn, a Harlequin, a Black, and Jake. Nobody wanted Jake due to his unusual coloring, his blue eyes, and because he was so much smaller than the others. But Jake was lucky. Analyn came to visit. She fell in love with him and took him home. Here's what she has to say:


"Jake is amazingly gentle and he was obedience trained at 6 months. He is going to be neutered just like the rest of the boys (Danes) that I have; I normally like to wait until they are about 1 year of age. As you can see, Jake is going to be a big Great Dane. At 10 months he's already 160 lbs. and 35" tall! His father is a huge Dane -- 210 lbs. and almost 41" tall. His mother is also large. She weighs 175 lbs. and she is 36" tall."

---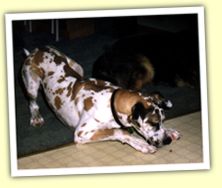 Much to my surprise, last week someone sent in a picture of another Fawnequin, Harley. As you can see, Harley's tan markings are much darker and more "spotty" than those of Jake's. I thought you might enjoy seeing two unrelated Fawnequins together on the same page.




Visit www.dogware.com for DaDane of DaWeek t-shirts & sweatshirts !

These drop-down menus should work with all browsers.
If you experience a problem, please visit the hypertext-based Archives & Directory.


- Recommended Links -
DaDane's "Great Dane Links" now offers over 1000 links, sorted by category for easy browsing. Categories include health & welfare, breeding & genetics, clubs & organizations, rescue resources, breeder directory, and personal pet sites. New links are added every Monday.

Free DaDane Postcards
There are over 100 electronic postcards now, including the most recent DaDane pictures. Send someone a DaDane postcard. It's virtually free! Also available: E-male postcards and FeMail postcards.

DaDane T-shirts
Your favorite DaDane postcard pictures are now available on t-shirts, turtlenecks, and sweatshirts. Please visit our DogWare website to see the latest designs. These shirts make great gifts!