He was just another stray, nothing remarkable about him except for his size. Wandering the streets of Salinas, California, the young merle Great Dane was malnourished, lonely and frightened. And he was very sick. If the streets didn't kill him, the Parvo surely would. He didn't have much time left.

Then he met a stranger, someone who knew what would happen to him if he was taken to the pound. He was delivered instead to a veterinary clinic, All Pets Hospital, where a generous and caring staff took one look at him and decided he deserved a second chance.

They called him Bullwinkle. They couldn't be sure, but they figured he was about four months old. He was slowly nursed back to health and eventually he made a full recovery. The people at the clinic kept him there for three months. He was a special dog who deserved a special home, and they weren't going to let him go to just anyone. They would keep him until a suitable home could be found.


Meanwhile, in nearby Monterey, Wendi Newman and her husband Richard were mourning the loss of their harlequin Dane, Eddie. "Our boy was five and a half. He had an asymptomatic cancerous tumor in his large intestine. It burst one night. We took him to the vet as soon as it happened, but because it was hard to diagnose, Ed didn't have surgery until about 10 hours after it happened. He was so brave. It must have been excruciating for him. The peritonitis got the better of him about 30 hours after surgery. I am really thankful I was there when it happened. The whole hospital was surprised when he died, and they all cried with me. He was a very special animal... a very old soul. I can't tell you how much we miss him!"

As luck would have it (or was it fate?) a friend told them about Bullwinkle. Wendi and Richard went to see him. It was love at first sight. Wendi wrote me a note soon after they brought him home, "He weighs 80 pounds, eats voraciously, and plays with gusto! We are watching him very carefully right now because he's at the stage where he has to mouth everything.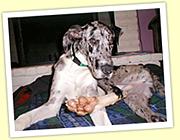 We can't really tell how old he is... he seems to have his adult teeth, but he still is chewing like a baby. We think he's around 7 months old. We're calling him Elmer. We changed his name because he doesn't answer to "Bullwinkle," and he sticks to us like glue – Elmer's Glue!

"Elmer is shy about noises. His little feet are so soft after living in a cage for months, it hurts him to walk on gravel and rough surfaces. He even cried at the park after walking on some pine needles. He's not housebroken either, but he's learning quickly. He is very affectionate and well-socialized with people and other animals. He's really cute with other dogs because he knows nothing about playing skills... he learned a whole new dog vocabulary last night as he tried to play with the other dogs at the dog park. We are very glad to have him."

Three months later Wendi had this to say about Elmer's progress, "When we first adopted Elmer, he was just a skinny little guy, with very little muscle tone because he had been so sick. Since mid-December he's gained almost 30 pounds, stands three inches taller, and he's showing his buffed-up muscles prominently.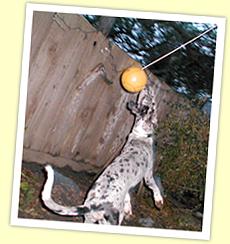 He was easily housebroken – it took only a week. Elmer is a gas at the dog park, a large wooded area where all the dogs run off leash. He has made friends with all of Ed's old buddies, about 30 or 40 dogs. This time of year is especially good for the dogs because there are great puddles of muddy water that are magnets for those who love mischief. Elmer pounds through the mud like a great steed. He stops short, slaps the water, slips and skids, all while enticing the other dogs to join in. (There is never much convincing needed!) We all walk out of there covered in mud, but our bellies ache from laughter.

"I am beginning to think we should have named him Astro, because he flies through the house, sometimes jumping from couch to couch – pretty exciting in a small house like ours! Eddie was never this energetic so it was a bit of an adjustment. Elmer is finally tapering off the madness a little. For the first two months he was Mr. In-Your-Face, but now he takes a few naps in the daytime and will go outside to play volleyball all by himself.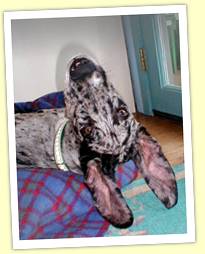 This dog, I think, is just so happy to be alive. He is filled with curiosity, playfulness, and downright joy. He is always positive, takes training and corrections well, and he is very intelligent . I used to keep large parrots, and they seem to have this same zest for life... they find comedy and "lightness" in any situation. This is Elmer. He takes each moment and has the best time with it that he can – whether it's flying through the air, playing with toys, running in the park with other dogs, or just leaning against us. Ed's unexpected death taught us much about living in the moment, to appreciate each second that you have with all that you love. Sometimes I think that Ed sent us Elmer to give us an even greater appreciation of each minute that ticks by. Elmer helps to keep our memories of Ed alive – and every day he gives us new memories to cherish."

Note:
This story makes the case for Dane Rescue! I had the pleasure of meeting Elmer, Wendi and Richard in Monterey a few months ago. Elmer is everything Wendi says he is. If you are interested in adopting a homeless Dane, there are many online resources to get you started. Please visit my
Rescue Directory
(http://www.ginnie.com/gdlinks5.htm) and follow the links.