Last week I told you about my recent trip to northern Germany. I had the good fortune to attend a championship dog show where I saw hundreds of Great Danes. In comparing German Great Danes to American Great Danes, I was struck by several differences. Most obvious, of course, is the fact that German Danes are uncropped. Cropping is strictly prohibited in Germany. Since my own two Danes have natural ears, I didn't find it very hard to get used to the uncropped look. The biggest surprise, for me, concerned the overall size and stature of the German Great Danes. They are generally quite a bit heftier than American Great Danes. Not only that, but many of the male Danes had very large heads compared to their female counterparts. On some dogs the heads were proportionally larger than anything I've ever seen in the United States.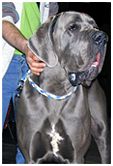 All of the Great Danes I observed at the championship show appeared very relaxed and friendly, just like their owners. Most of them were owner-handled. Unlike in the USA, more than one person was allowed to handle the dog during a match. The show itself was clearly a family event. People arrived early and settled in for the day in what can only be described as a "picnic" atmosphere. It was not unusual to see entire families cheering for their dog from the sidelines. There was no shortage of enthusiasm.

This week's DaDane features a very nice blue Great Dane. He exemplifies the more "robust" German body type. In order to show the dog's silhouette to best advantage, I removed the busy background from the original photo and placed the dog on a more complimentary background. Next week I will show you a different body type.