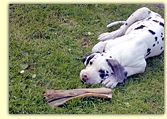 This week's "DaDane" features a litter of six Great Dane puppies from the
Licht des Nordens
kennel in Germany. As you can see, the litter consists of three show marked harlequins and three nice mantles. A dream litter. I tried very hard get some decent shots of the kids, but photographing those 10-week-old rascals proved to be quite a challenge. (I would have done much better with a video camera!) The puppies were all very well socialized and constantly on the go, never still long enough to be photographed together as a group. The best I can do is give you this composite photo. The puppies were going after handfuls of small dried fish that had been tossed into the air. Believe me, they examined every square inch of the yard until they had found the last tasty morsel. This was one time that their "puppy breath" was something I could do without.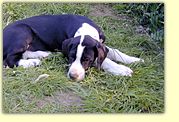 By now these puppies have gone to their new homes. In fact, one harlequin girl just arrived in the USA. Her breeder, Yvonne Putty, flew over here to deliver her personally. The rest of the litter stayed in Germany. Last week I received a message from a family that adopted a Licht des Nordens mantle boy named Heros.
Heros already has his own Website
! It is a very nice site; if you have a moment please drop in. You won't be disappointed.

Next week's DaDane will be a continuation of the Germany series. I will feature an unusual dog that you must see to believe! Until next week...