Don't worry, this extraordinary creature is not an "extreme" German Great Dane, although some would argue that he's a distant relative. I met this fella last month at the 'VDH Europasieger-Zuchtschau 2000' all-breed dog show in Dortmund, Germany. Of the hundreds of dogs I saw, including the Danes, this one was my favorite. At the time, I had no idea what his breed was — but I knew I could not leave the show without picture of him. He was very large and very gentle, but not particularly friendly. Sacked out after a busy day in the ring, he had no intention of standing up to greet me. So I got right down there on the floor with him. He proved to be quite charming.

After I returned to the States, I showed his picture to a few friends. Nobody could tell me what kind of dog he was until I asked Teresa Labrie, who breeds blue Great Danes. "That's definitely a Neapolitan Mastiff," she told me. "They are usually blue and shown in the USA with very tightly cropped ears. Based on the head shot, he appears to be a very nice specimen for this breed."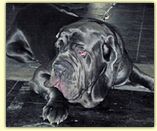 According to the official
Neapolitan Mastiff Home Page
, "Mastinos" or "Neos" are an ancient breed. They are found in a variety of colors: blue, black, tawny and mahogany. Blue is the most common and desirable color because Mastino's were originally bred as guardian dogs; the blue color helped them to blend into night shadows. Throughout his history, the Mastino was a working dog whose job was guarding and defending his owner and property. Over the centuries, breeders in southern Italy refined the Neapolitan Mastiff through selective line-breeding of recessive genes. They emphasized giant size, a lumbering gait, heavy, loose skin and a pronounced dewlap. But unlike his early predecessors, the modern Mastino became a "homebody" — good with the family but still able to readily detect unwanted intruders and scare them off, usually with just a glance.

Neapolitan Mastiffs first entered the conformation ring in 1946. The show was in Naples, Italy. Two years later the "Neo" Standard was codified. The following year, in 1949, the Neapolitan Mastiff was recognized by the FCI (Federation Cynologique Internationale). 1973 marks the earliest verifiable documentation of a purebred Neapolitan Mastiff entering the United States. This was 27 years after the Neapolitan Mastiff first entered the ring in Italy! It wasn't until 1996 that the US Neapolitan Mastiff Club's standard was approved by the AKC (American Kennel Club). If you would like to see Mastinos in the flesh, you should plan to attend the 2000 Neapolitan Mastiff National Specialty and the 2000 International Specialty shows. The shows will be held concurrently in Washington, DC, beginning October 6, 2000. You can visit the
USNMC National Specialty
page for more information.