Do you ever wonder what your Great Dane does when you aren't home? Our two Danes sleep most of the day, rousing themselves now and then to bark at invisible space ships hovering above the house. I don't know about you, but we seem to have a lot of alien vessels in our area and most of them stop right over our house. Great Dane radar picks them up well before we humans ever see them. Fortunately, all it takes is a series of bellowing "woofs" to ward them off.



Barking at spaceships — and occasional earthbound strangers — is all in a day's work. For some Great Danes it isn't enough. They want more out of life. And they are certainly finding it...



A friend of mine decided to set up a automatic video camera in the family room to record his Dane's daily "nine-to five" activity.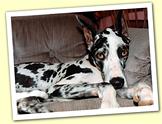 Sleeping on the couch was forbidden, but it was obvious to everyone that the dog was spending time on the couch when nobody was home. The tape confirmed this. But lo and behold it revealed something else, too. What nobody realized — until they played back the tape — was that the family dog had devised other methods of amusing himself while lounging on the couch. He was raiding the laundry basket for dirty clothing (socks and underwear preferred) and carrying the articles back to the couch where he would settle down to contentedly nibble on them throughout the day. To cover up this nefarious behavior, he would bury his "toys" under the couch cushions before anybody came home.



Once the video tape revealed his secret, all eyes went to the couch. The Dane stood by with a sheepish look on his face while the couch cushions were lifted. A collective groan was heard as the lady of the house retrieved 17 socks and assorted unmentionables.

---
This week's portrait features "Tank." She has previously appeared on DaDane of DaWeek.
If you would like to read Tank's story, click here.
---
DaDane of DaWeek t-shirts & sweatshirts
are available at www.dogware.com

These drop-down menus should work with all browsers.
If you experience a problem, please visit the hypertext-based Archives & Directory.


- Recommended Links -
DaDane's "Great Dane Links" now offers over 1000 links, sorted by category for easy browsing. Categories include health & welfare, breeding & genetics, clubs & organizations, rescue resources, breeder directory, and personal pet sites. New links are added every Monday.

Free DaDane Postcards
There are 95 electronic postcards now, including the most recent DaDane pictures. Send someone a DaDane postcard. It's virtually free! Also available: E-male postcards and FeMail postcards.

DaDane T-shirts
Your favorite DaDane postcard pictures are now available on t-shirts, turtlenecks, and sweatshirts. Please visit our DogWare website to see the latest designs. These shirts make great gifts!