Meet Doogan, a one-year-old harlequin Great Dane. I ran into Doogan at the GDCA National Specialty last month and I was quite taken with his floppy ears and sweet expression. Doogan, whose registered name is Flighty KJEM Diamond Life, was part of a litter of four born in Ontario, Canada. He now resides with his adoptive owners, Bev and Joe Klingensmith, in Newton, Iowa. Bev has this to say about him: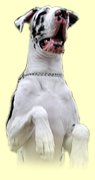 "Doogan is a very vocal dog. When he was a puppy we used to place his food dish on a little wooden stand. Well, the dish would slide around and sometimes fall off. He quickly figured out that if he barked as soon as it started to fall, I would come straighten it out. Things progressed to the point that if his bowl even moved, he would bark for me to come fix it. (He certainly had me well trained!) Doogan figured out he could use that same trick for toys. If he was tossing a toy around and it went behind a piece of furniture, he would lay in front of it and bark and bark and bark – and then bark some more.



Doogan is very talented at drooling. (Can't you tell by looking at those lips?) When he's not busy eating or drooling, one of his favorite activities is stalking. Instead of chasing after a toy that he has thrown across the room, he will stalk it. When I let him off leash in the park he will run out in front of me, then whirl around and stalk me. Sometimes I'll be sitting at my computer at home and hear a squeak in the floor behind me. I'll turn around and Doogan will freeze – mid-stalk. Then I have to act like I'm not watching and he'll sneak all the way up to me. Most often we'll be nose-to-nose before he breaks. It's really quite comical!



He is a BIG mama's boy. We do a lot of obedience together and he is a quick learner. He really enjoys our weekly trips to the obedience club."
Doogan has been entered in this month's Hot Diggety Dawg Photo Contest. (I wonder who sent in the adorable puppy picture – his proud mama perhaps?) Please go check it out and vote for him.
DaDane of DaWeek t-shirts & sweatshirts
are available at www.dogware.com

These drop-down menus should work with all browsers.
If you experience a problem, please visit the hypertext-based Archives & Directory.


- Recommended Links -
DaDane's "Great Dane Links" now offers over 1000 links, sorted by category for easy browsing. Categories include health & welfare, breeding & genetics, clubs & organizations, rescue resources, breeder directory, and personal pet sites. New links are added every Monday.

Free DaDane Postcards
There are 95 electronic postcards now, including the most recent DaDane pictures. Send someone a DaDane postcard. It's virtually free! Also available: E-male postcards and FeMail postcards.

DaDane T-shirts
Your favorite DaDane postcard pictures are now available on t-shirts, turtlenecks, and sweatshirts. Please visit our DogWare website to see the latest designs. These shirts make great gifts!