February 26, 2001– People ask me why I don't feature my own Danes more often on DaDane of DaWeek. Simple, I see them everyday. It is more interesting to study other people's Danes. Mine are just too familiar to me.

Well, this week I am making an exception. This is Jabber. He is six years old. I did this triple portrait, which captures several of his moods, because I am worried about him. On Friday, March 2, I will bundle him up and we'll drive for two hours to a
special clinic
where I will tearfully say good-bye to my big furbaby, leaving him in the hands of a very capable surgeon. Then, within a couple of hours, Jabber will be anesthetized. His right rear leg will be shaved from hip to toe. Both rear legs will be x-rayed and surgery will begin. The surgical procedure will take one and a half to two hours.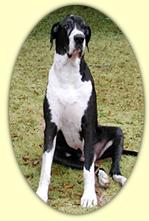 Jabber is about to undergo TPLO surgery – Tibial Plateau Leveling Osteotomy. Why? Because he is crippled. He "blew" his cruciate ligament and he has been painfully disabled ever since. The surgeon will open Jabber's leg and "redesign" his knee by performing a rotational osteotomy. It's a very sophisticated procedure that was developed as an alternative to traditional cruciate stabilization surgery. Traditional cruciate surgery does not have very good long-term success rates among the giant breed dogs, and recovery is typically long and hard for both master and dog. I believe that TPLO is the best solution. (If you would like to read an article on TPLO surgery,
click here
.)

Jabber's TPLO surgery will give him his life back, but there's a price to pay. Yes, it
is
expensive, but that's not what I mean. The surgery will be painful and he will have a long period of recovery and rehabilitation. Jabber will stay at the clinic for a full week post-op. I will visit him as often as I can. By the time Jabber comes home he should be feeling much better. He will be able to walk on his "new" leg, but his daily activity must be severely restricted. (Some people say that keeping their dog quiet during the extended post-surgery period is the most difficult part of recovery.) At the end of his three weeks of "house arrest," Jabber will go back to the clinic for two weeks of intensive physical therapy. He will live at the rehab center, where hopefully he will have some agreeable canine companions to help him pass the time between therapy sessions.


It's my intention to give you periodic updates on Jabber's progress through surgery and recovery. I hope you will find it interesting and perhaps even helpful. In the meantime, if you are a Great Dane owner contemplating cruciate surgery for your pet, please don't hesitate to contact me. The very best TPLO website I've found is authored by Laurie Bryce, whose Bernese Mountain dog underwent TPLO on both sides. I urge you to visit and bookmark her site; you might need it someday:
www.lauriebryce.com/tplo
.

In the meantime, please send good thoughts our way. Surgery is always risky, especially on a six-year-old Great Dane. Jabber has had many health problems throughout his life, so I feel he is more at risk for complications than the average Great Dane. Please keep him in your prayers. He is a good boy and we love him.