June 25, 2001 – I must confess that along with Great Danes and Basset Hounds, Mastiffs hold a certain fascination for me. I've never had the opportunity to live with a Mastiff. Whenever I see one,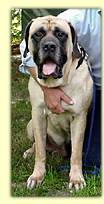 I can't help wondering how the personality of the breed compares to that of the Great Dane. There are certain characteristics that I think of as being strictly "Dane" – leaning, woo-woo-ing, lap/chair sitting, sleeping upside down, paw slapping, boinging, etc. Do Mastiffs do these things? Do they have their own endearing eccentricities, and what are they?



This lovely boy is a four and a half year old rescue named Titan. He arrived at his new home in Michigan last week. Titan is a very fortunate dog. He could not have been placed in a better home. His new dad, Bill Hench, has a long-standing love of the breed. He and his wife have been involved in Mastiff fostering and rescue. Bill is a veterinarian who specializes in large animals. He is currently working for USDA Veterinary Services. He spends a lot of time in the field working on the bovine TB problem. I met Bill several months ago on a very special mail list. He has generously contributed his time and expertise to educate me about certain aspects of Jabber's health problems.* I am very grateful to Bill – he's one in a million – and it is a pleasure to feature Titan on DaDane of DaWeek.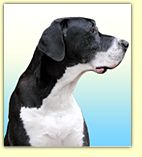 Jabber Update
Jabber is feeling just fine, but he is still passing blood in his urine. Last week, on Day 12 of his Clavamox treatment, we decided to do another culture and sensitivity evaluation. Fortunately no bacteria was found, which indicates the Clavamox is doing its job. You may recall that Jabber's infection flared up earlier while he was in Week 3 of Baytril treatment. The bacteria (E. coli) had developed new resistance to the antibiotic. We were afraid the same thing would happen with the Clavamox, but so far so good. We are concerned about the blood in his urine, though. It has to be coming from somewhere – the kidneys, bladder or prostate. Jabber will be on Clavamox for one more week and then he will be closely monitored to see if the bacteria returns. If we continue to see blood in his urine the next step is to radiograph Jabber's bladder to look for bladder stones. If none are found, he will undergo ultrasound to examine his kidneys, bladder and prostate.



*Bill Hench made me aware of the Plumb's Drug Veterinary Handbook, an invaluable resource for people who want to learn as much as they can about their pet's prescription medication. This is definitely a site to bookmark.
---
DaDane of DaWeek t-shirts & sweatshirts
are available at www.dogware.com
---

These drop-down menus should work with all browsers.
If you experience a problem, please visit the hypertext-based Archives & Directory.


- Recommended Links -
DaDane's "Great Dane Links" now offers over 1000 links, sorted by category for easy browsing. Categories include health & welfare, breeding & genetics, clubs & organizations, rescue resources, breeder directory, and personal pet sites. New links are added every Monday.

Free DaDane Postcards
There are 95 electronic postcards now, including the most recent DaDane pictures. Send someone a DaDane postcard. It's virtually free! Also available: E-male postcards and FeMail postcards.

DaDane T-shirts
Your favorite DaDane postcard pictures are now available on t-shirts, turtlenecks, and sweatshirts. Please visit our DogWare website to see the latest designs. These shirts make great gifts!