August 27, 2001 – This is Dik, a two-year-old mantle who lives in the small European nation of Slovenia. Dik belongs to Marcus Fink. Marcus is a student of civil engineering at the University of Dayton. Marcus had to leave Dik behind when he came to Ohio to begin his studies last January. He misses him very much.



Dik resides with the Fink family in Ljubljana, the capital of Slovenia, where he is a very pampered pooch. This summer Marcus returned to Slovenia for two weeks. He sent me a note after he was back in Ohio: "We celebrated Dik's second birthday while I was home. We went to the Adriatic coast, specifically to one of many islands in Croatia where we have a summer house. Dik enjoyed swimming so much and eating fresh fishes straight from the sea to grill. We had great time and I can't wait to go home again in December." Along with his note, Marcus sent me some photos of Dik. After I decided to feature Dik on DaDane of DaWeek I asked Marcus to tell me more about him. Here's what he had to say: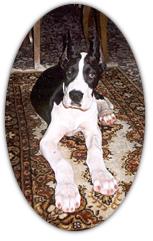 How we found Dik.
On September 4th, 1999, our first Great Dane, a black also named Dik, died from heart attack on an island in Adriatic. We were all shocked and depressed. We couldn't imagine life without a Great Dane so when we got back home to Slovenia we decided to get a new puppy. The breeder of our first Dane was no longer breeding. Slovenia is a small country – only 2 million people – so it was hard to locate a new breeder. We could have gone to a neighboring country such as Italy, but prices there are very high. Mantles and harlequins, the most popular and luxurious Danes around there, run from $1,500 to $3,000. Anyway, we found a kennel in Sencur, Slovenia. The kennel is called "Psarna from Valvasor's Land." The breeder, Slavi Pors, told us she had just one black male puppy left in the litter. My dad and I arrived the next afternoon only to find the puppy had been sold that morning.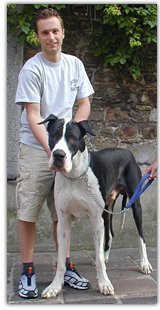 Slavi invited us to see her other Danes and there he was, our new Dik, a very cute little mantle puppy with wrapped upward ears. He was playing with the rest of female black and harlequin puppies. "How about this one?" my father asked. "Sorry, this one stays at home for competitions and later for future breeding," she answered. It was only a few days later when we got a call from her. "Because of your situation and I know you will take good care of him, my husband and I decided you can have our favorite puppy." What a happy surprise! The next day we went back for Dik. We promised Slavi that we would go to competitions to show our new little beauty. By the way, he achieved a lot: champion in puppies class (CAC, CACIP competitions), the most beautiful puppy, later on also in youth class. I still remember how his breeder was crying when she was putting him in our car.



Dik's Life in Slovenia
Now the story about Dik's popularity in Slovenia. As a one-month-old puppy, Dik was shown on a national TV channel, where they have an animal show for kids every Sunday. His picture was also featured on the first cover of a youth magazine.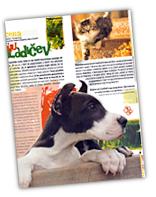 Plus all reports made at competition shows – all of that made Dik an early star. This tells you a little bit that Great Danes in Slovenia are very, very popular. They would be spread around much more, but a lot of people in the capital city (Ljubljana) live downtown and in big residential skyscrapers where it isn't as easy to keep a Dane. Also some people are afraid to own one because of the meat consumption that Danes require. Then on another hand a lot of people don't have time for a Dane because they are gone from home all day long.



Now Dik is all grown up. My father takes him jogging every morning for at least two hours, because as you know it is very important for Danes to stay fit. After they are done, they go to the butcher store to get Dik some meat. He usually eats at least 4 pounds of fresh meat like chicken backs, lower grade beef, etc. He also likes to eat dog food. Of course he loves all kinds of sweets, too. We have a house in a metropolitan area with a fenced garden with old trees all around, so Dik usually spends the day there.



One interesting story happened this past June when I was at home. Neighborhood kids would come to the entrance door calling for Dik to come play soccer with them. And he really did!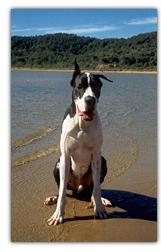 They would kick the ball between themselves and Dik would run after it. So as you see he is very social dog, like almost all Danes. He protects weaker dogs from bigger ones, because like all Danes he is fully aware of his power and supreme height. One day a terrier attacked him. Oh boy, he changed his mind very quickly when he was lying down under Dik!



Like our previous Dane, Dik also likes water very much, especially swimming. He spends two months every year at our summer house on the Adriatic, going with us to the beaches, etc. He also likes to ride the ferry where people always gather around him. The ferry captain then knows that the Fink family is on their way back to the summer house! Dik is the biggest attraction for many tourists, especially Italians and Germans. As you know, Italians are the greatest dog lovers in the world with an almost unrestricted policy of dogs in society. This is also true for Slovenia. You can take dogs to many public places, including airports and restaurants. There are three restaurants very close to our house, so people – especially kids – would come to our house bringing food for Dik. As you can see, he leads a very happy life.
I hope you enjoyed reading about Dik's life in Slovenia. You can write to Marcus (or Dik) at finkmarc@notes.udayton.edu.



Jabber Update
After a ten day wait, Jabber's urinalysis and culture report finally came back from the lab this morning. He has yet another E. coli infection! This time, though, the E. coli bacteria is sensitive to a wide range of oral antibiotics. We are putting Jabber on Chloramphenicol right away. His urine has been bloody, foamy and smelly for the past week. Hopefully a round of antibiotics will knock back the infection, but important questions remain unanswered: Why does the E. coli keep coming back? Was it ever really gone? Why isn't Jabber's immune system, assisted by antibiotics, able to overcome the bacteria? Is there an internal problem that did not show up in the last ultrasound?

---
DaDane of DaWeek t-shirts & sweatshirts
are available at www.dogware.com
---

These drop-down menus should work with all browsers.
If you experience a problem, please visit the hypertext-based Archives & Directory.


- Recommended Links -
DaDane's "Great Dane Links" now offers over 1000 links, sorted by category for easy browsing. Categories include health & welfare, breeding & genetics, clubs & organizations, rescue resources, breeder directory, and personal pet sites. New links are added every Monday.

Free DaDane Postcards
There are 95 electronic postcards now, including the most recent DaDane pictures. Send someone a DaDane postcard. It's virtually free! Also available: E-male postcards and FeMail postcards.

DaDane T-shirts
Your favorite DaDane postcard pictures are now available on t-shirts, turtlenecks, and sweatshirts. Please visit our DogWare website to see the latest designs. These shirts make great gifts!