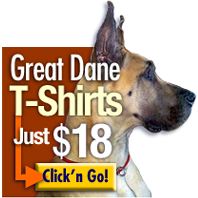 DaDane's "Great Dane Links" now offers over 1000 links, sorted by category for easy browsing. Categories include health & welfare, breeding & genetics, clubs & organizations, rescue resources, breeder directory, and personal pet sites. New links are added every Monday.

Free DaDane Postcards
There are 95 electronic postcards now, including the most recent DaDane pictures. Send someone a DaDane postcard. It's virtually free! Also available: E-male postcards and FeMail postcards.

DaDane T-shirts
Your favorite DaDane postcard pictures are now available on t-shirts, turtlenecks, and sweatshirts. Please visit our DogWare website to see the latest designs. These shirts make great gifts!