"Bedtime Story"



On Friday of last week my husband left me. Packed his bags, and off he went. I had seen it coming. Now, I have to tell you I love my husband, but I recovered quickly and decided to make the best of it. (When issued lemons, you make lemonade, right?)



B's defection presented me with a unique opportunity. I could find a new sleeping companion. I had one in mind. Actually I had two in mind. Yes-siree! Merlin and Jabber.



You see, there are lots of people on the Great Dane Mail List who sleep with their Danes every night. They write about it all the time. I've been so envious. To actually sleep with your dogs... wow!!! One big happy family -- all snuggled together, sharing dreams. But not at our house...



Up until Friday, Merlin and Jabber were not allowed in the bedroom. I was never happy with this rule, but I went along to keep the peace. Well, no more! Merlin and Jabber were going to sleep in a real bed on Friday! With their Mama!



And so they did.



Let me tell you, they were the ONLY ones who slept Friday night. Those two boys snored. They farted. They twitched. And in the middle of the night they actually started expanding. They got bigger and bigger until they used up all the available real estate. All I had for myself was a tiny corner of the bed. Those boys started off at 165 pounds, but by morning, I swear they were 300 each. And I was thrown out of the bed.



Well, it follows that the dogs are back in their deluxe doghouse now. And last night I slept with my three cats. They didn't snore and we all fit on the bed. It was very nice. My husband won't be returning from India for another two weeks, but when he gets back, I will not tell him what I did. Will he find out? Nah, not unless he visits this website. He doesn't do that very often. He says living with me is entertainment enough.



(((Just in case you're reading this, Billy, I want you to know that I found that big rubber cockroach you left under my pillow. I found it right away and it didn't fool me for a minute. But it fooled Jabber. He ate it -- maybe it still smelled like the pecan pie.)))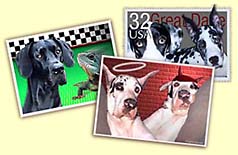 "DaDane of DaWeek" Virtual Postcards
New cards! There are 45 cards now, including the most recent DaDane pictures.
Send someone a virtual DaDane card. It's virtually free!