"Checklist Update"
How do you know you own a Great Dane? Over the past year we've collected over 180 sure-fire indicators, and they just keep coming. We now offer six pages worth of valuable insights into Great Dane ownership. To see the latest and the greatest, visit the updated Dane Owners Checklist.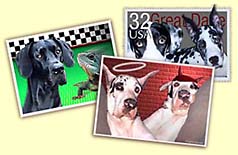 "DaDane of DaWeek" Virtual Postcards
DaDane Christmas cards! We've added new cards...
There are 52 cards now, including the most recent DaDane pictures.
Send someone a virtual DaDane card. It's virtually free!