"Family Traditions"



Every year, as soon as we get out that box of tree ornaments, our Great Danes start bouncing up and down in anticipation of one of their favorite seasonal events...the dressing of the Christmas tree. Our boys each have their favorite ornaments. With great ceremony, these are placed on the tree, always above the tail-line. After the tree is decorated, we all stand back and admire our handiwork.



Like most children, Great Danes are eager to participate in other holiday activities, too. Ours are no different. There is but one Christmas task from which they are barred. Despite constant wheedling and whining, Merlin and Jabber are never allowed to water the Christmas tree.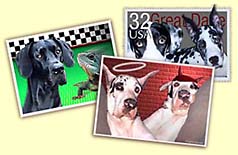 "DaDane of DaWeek" Virtual Postcards
New cards! There are 52 cards now, including the most recent DaDane pictures.
Send someone a virtual DaDane Christmas card. It's virtually free!