"Visiting Santa"



The holiday season offers the perfect opportunity to create and enjoy special family traditions. Such traditions become the foundation of happy childhood memories, and these traditions are often passed from generation to generation.



With the commercialization of Christmas in this century, new traditions have taken hold. Most of us remember sitting on Santa's lap when we were very young. The annual visit to Santa was, for me, one of the highlights of the holiday. Today, I can't pass a Santa in a mall without remembering the joy I felt when I was lifted onto Santa's knee. In a voice trembling with excitement, I whispered in his ear, "I want toys, lots and lots of toys!"

They want bones, lots and lots of bones!



A new holiday tradition is evolving in this country. Nowadays, many sensitive pet owners are taking their beloved four-legged family members to visit Santa. This works out very nicely. Our pets, and particularly our dogs, enjoy participating in a meaningful family rite. And though Santa is sometimes wearied by all this paw-holding, in the end he knows it is worthwhile for him, too.



For when Santa Claus slides down that chimney in the middle of the night, he will be greeted at the fireplace not by barks, but by a Loyal Friend.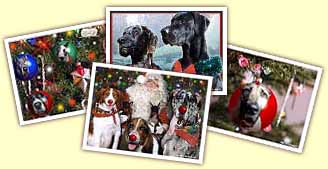 "DaDane of DaWeek" Virtual Postcards
New cards! There are 55 cards now, including the most recent DaDane pictures.
Send someone a virtual DaDane Christmas card. It's virtually free!