"Rabid Raccoon?"





Things have been tense at our house this weekend. Jabber could be facing a three month quarantine. The verdict comes down in a couple of days. Poor Jabber doesn't want to go to jail.



You see, Jabber killed a wild raccoon, his third one three weeks. The latest raccoon was behaving strangely. He was out in broad daylight. He was friendly. He was unsteady on his feet. We tried to capture him, but he wouldn't go near our trap. The next morning, in the blink of an eye, Jabber broke through a fence, found Mr. Raccoon, and quickly killed him. This is not a trivial matter. In our neck of the woods, raccoons are sometimes infected with rabies. For our own safety, as well as Jabber's, the County Health Department had to be notified. The carcass must be tested for rabies. If the test proves positive, Jabber will be sent to the slammer.



By now we know the drill. They use the brain to test for the disease. This means that the head must be in good condition. The brain has to be fresh. Ooops. That's a problem. The raccoon died Saturday morning. The state lab is closed through the weekend. The head can't be received until Monday. The body must be kept cold until the lab opens Monday morning. What to do? No matter what any of you say, I refuse to keep a dead raccoon in my refrigerator for two days, even if it is double bagged.



So the phone calls started. Believe me, it is a big job to get action on a dead raccoon on Saturday morning in South Carolina:



"Say what? A dead raccoon? How'd he die?"



"Our Great Dane yanked him out of a tree."



"Oh. I see. And whatchu callin' us for?"



"I want you to come get the raccoon and put him in cold storage until Monday."



"Why?"


"To keep his brain cold."



"Why?"


"So it can be tested for rabies on Monday."



"Rabies?! You mean that raccoon mighta had rabies?! I'm not touchin' it. Hold the line a minute."



You get the drift. Eventually I was connected to the right people, and I must say, they were all very professional. I was impressed. Mr. Raccoon was collected and he spent a nice chilly weekend in the county animal shelter's refrigerator.



The pathology report is expected back Tuesday, May 5th. We are hoping for the best.


Did you know?

If your dog or cat is scratched or bitten by a wild raccoon, skunk, fox or bat, you should call your county health department or animal control officer right away.


Any fur coated mammal can carry the rabies virus.


The carcass of a rabid animal is still very dangerous and it should be handled carefully. Do not touch it unless you are protected by waterproof gloves. (The same goes for infected saliva left on your pet.)


By the time a person or animal shows the symptoms of rabies, death is certain. There is no cure once the virus has reached the nervous system.


If your dog has had contact with a rabid animal, your state may require up to three months of strict quarantine, even though your pet is up-to-date on his rabies vaccination.


In such cases, if you cannot prove that your pet has had its rabies vaccine, most states require a six month quarantine.


The best website I have found on rabies is www.rabies.com (I suggest you bookmark this site.)


For additional information, visit the Compendium of Animal Rabies Control, 1998 . This document provides the guidelines followed by most states.

(DaDane of the week is updated with a new illustration and story every Monday.)

Please visit Elizabeth's Page
---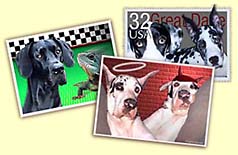 Today's picture is available as a virtual postcard!
There are 70 cards now, including all the most recent DaDane pictures.
Send someone a DaDane postcard. It's virtually free!
---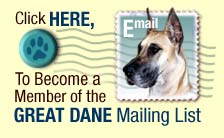 ---