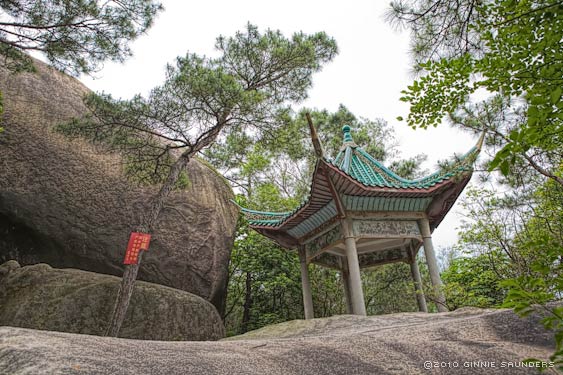 — More from Wanshi Garden, Xiamen —
see previous installment

June 12, 2010 – I was so taken by the Wanshi Botanical Garden that I returned the next day to engage in some brutal climbing with rewarding views. (No pain, no gain... right?)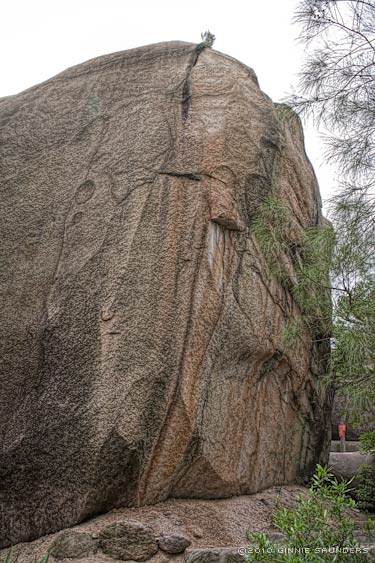 Huge boulders punctuated the trail as I headed up Shi Mountain.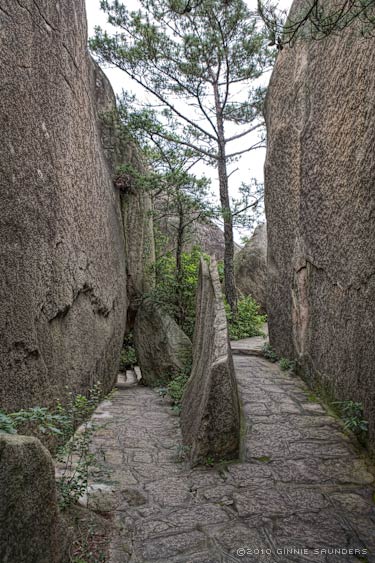 The trail was often paved with rough-hewn stone.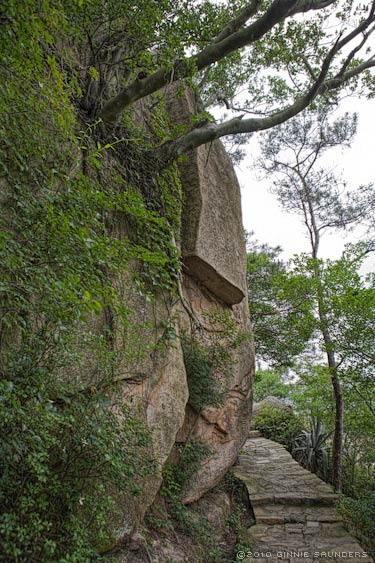 Gentle risers were sometimes added to soften the incline.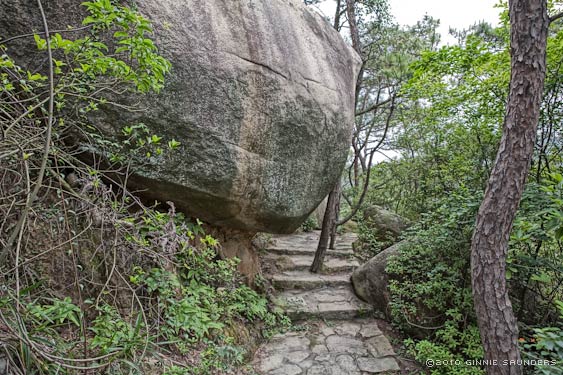 The effect was still quite natural.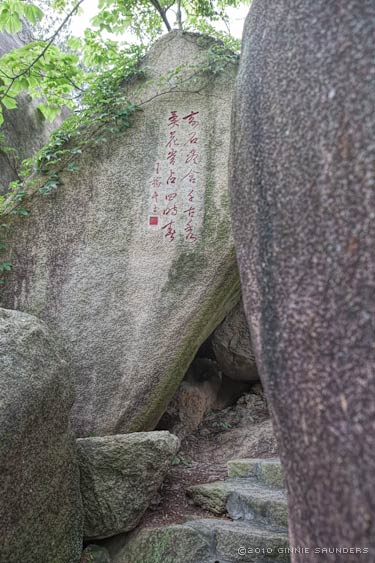 Coarse stone steps were embedded in the steeper sections.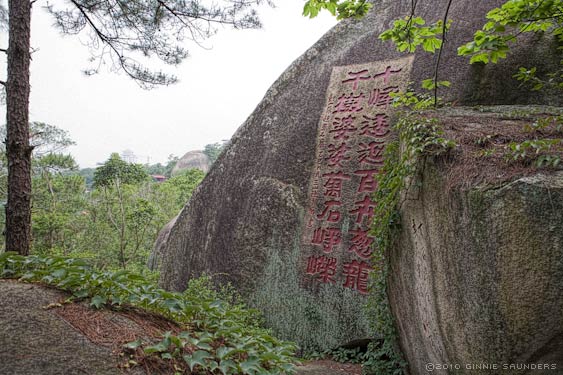 Carved inscriptions could be seen on the surface of many boulders.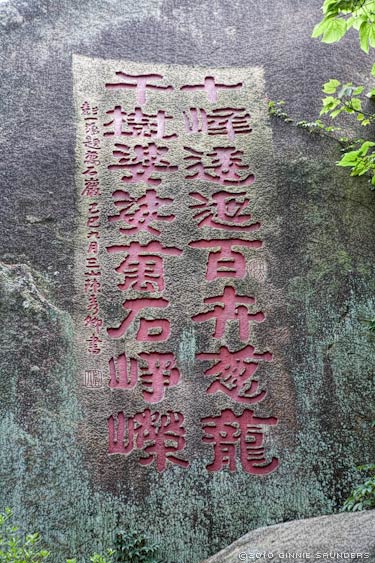 Calligraphic works of art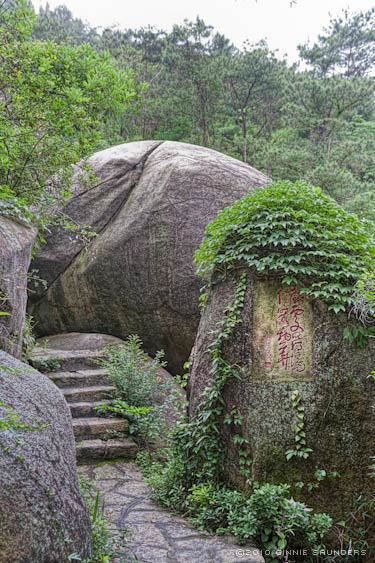 Here's another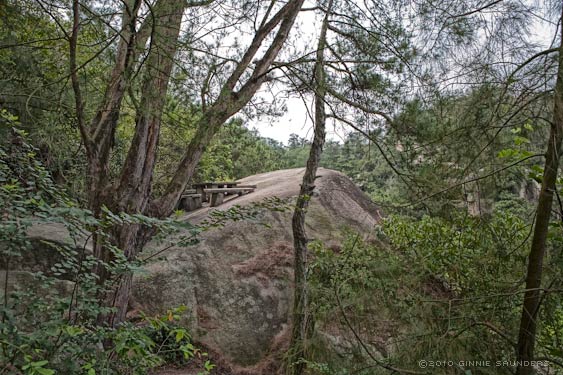 An unexpected resting spot — with panoramic views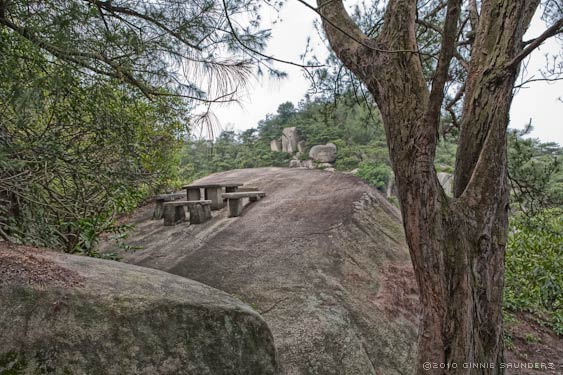 Stone benches around a stone table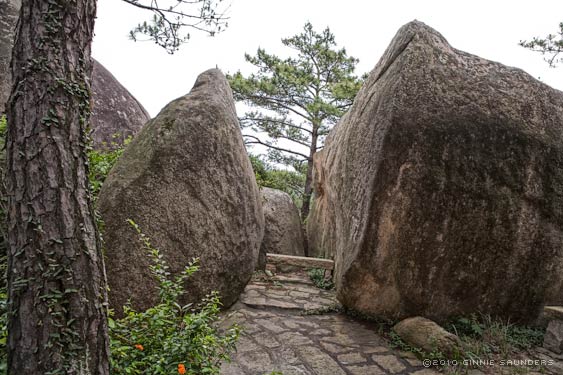 Another resting spot on the trail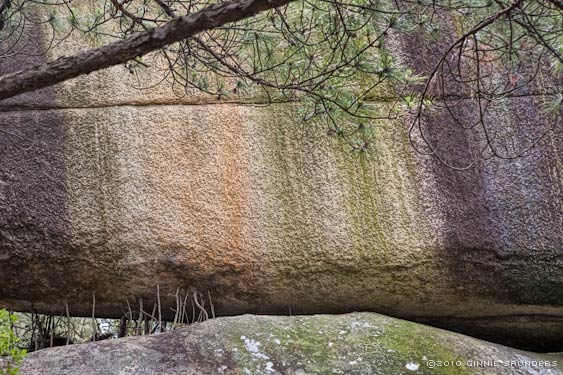 I loved the natural staining on the rocks...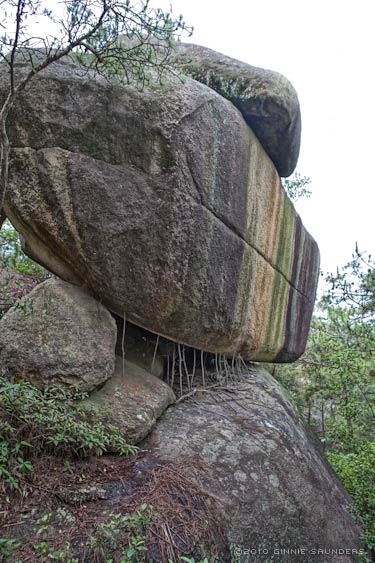 I was intrigued by the deliberate placement of thin vertical sticks beneath certain boulders,
left there (I think) by other hikers as they passed by.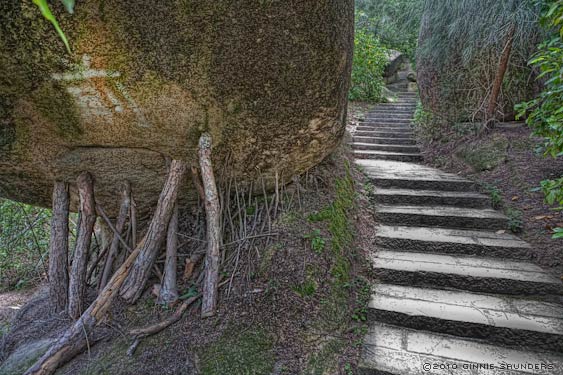 Such treatment appeared again and again.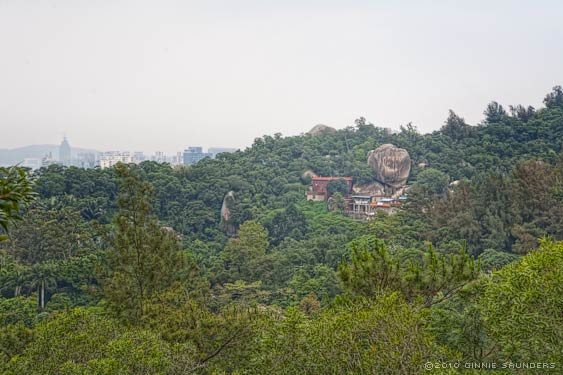 This was as high as I climbed.
Xiamen's skyline appears in the distance behind the Wanshilian Temple complex.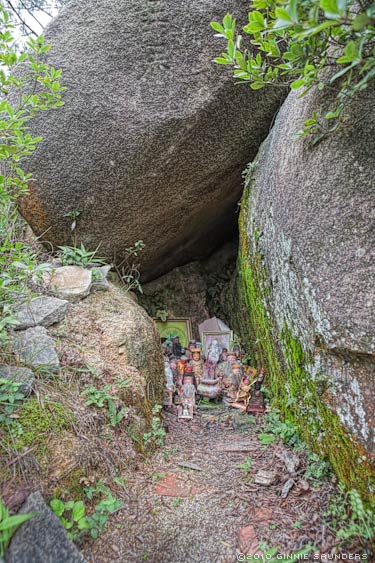 Nearby I spotted a small Buddhist shrine nestled in a crevasse.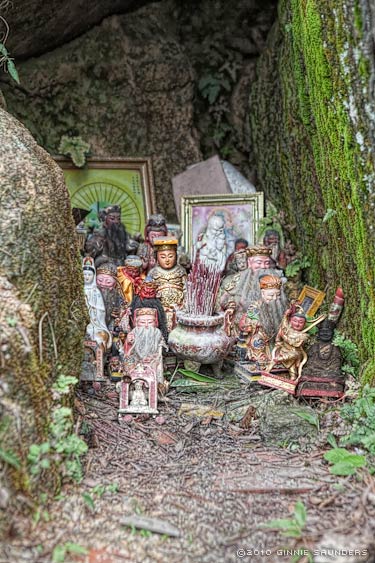 It contained incense and statuary.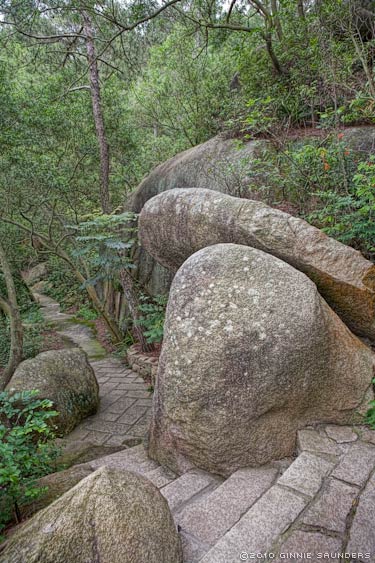 Off we go, towards the temple.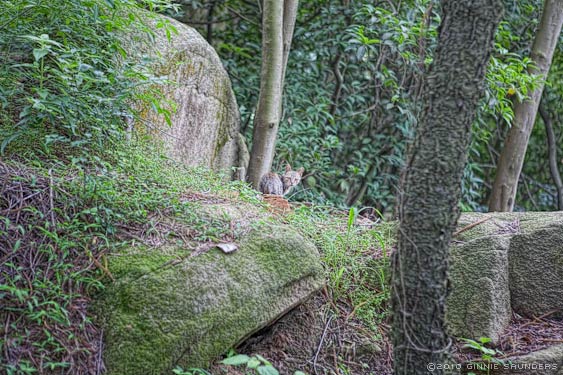 A feral cat; it didn't stay long.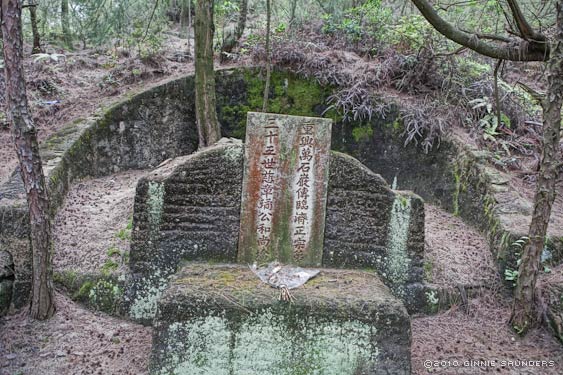 An old weathered alter?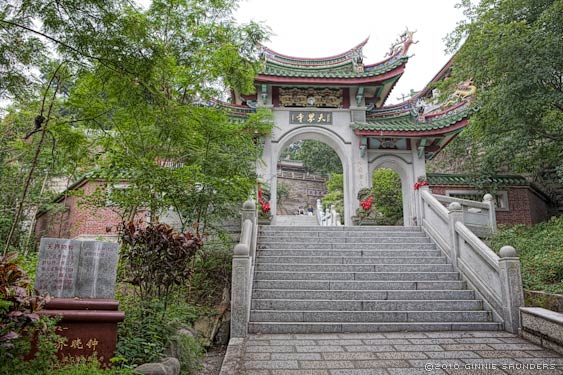 One of the gates to the temple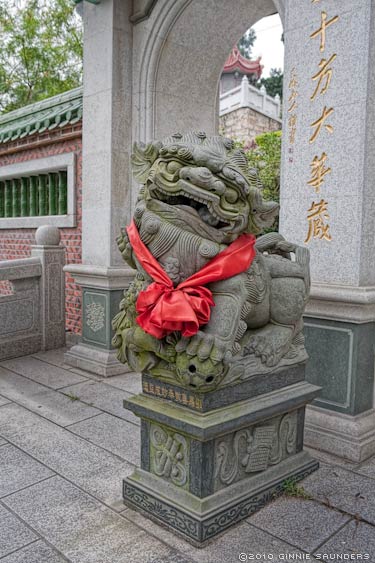 Sculptures flanked the main arch.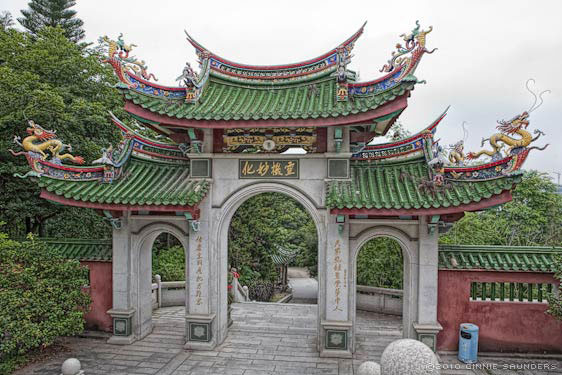 Above the gate, looking down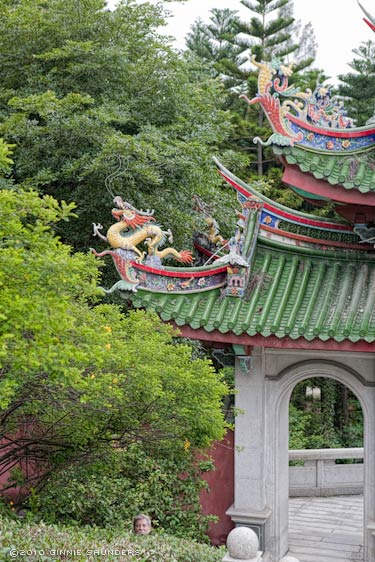 Roof detail, with my husband peeking out behind the hedge below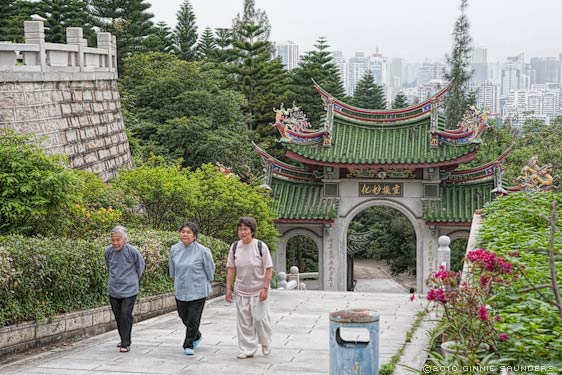 Tourists

A view from high above the gate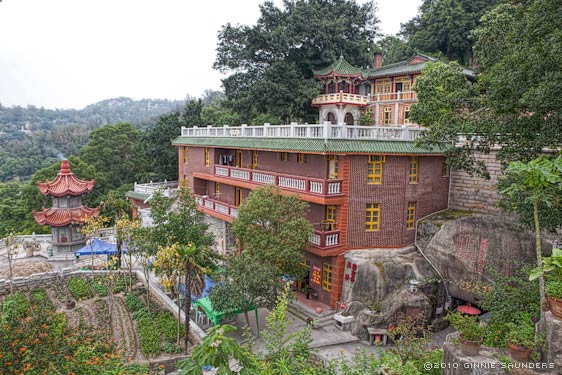 Now seen from the other side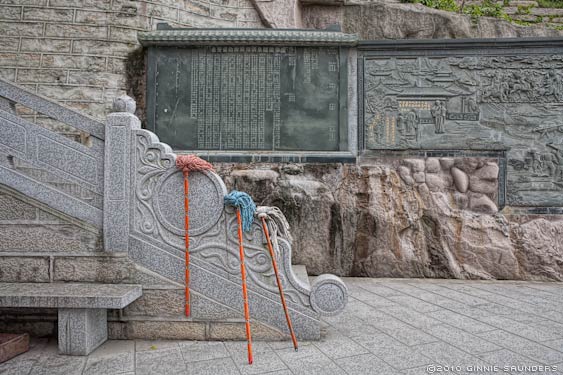 Colorful rag mops, propped against the wall of an elaborate stone stairway within the complex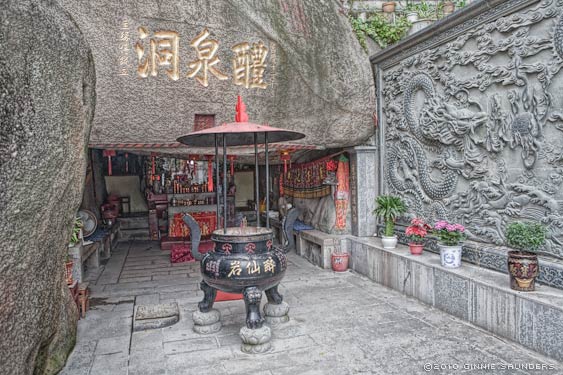 This shallow cave is the site of the original temple; it has been in constant use for centuries.
---
©2002-2008 by Ginnie Saunders. All rights are reserved. No part of this web site may be reproduced or transmitted in any form or by any means — electronic or mechanical, including photocopying, recording, or by any information storage or retrieval system — without written permission from Ginnie Saunders. To learn more about copyright issues on the web, visit the Web Law FAQ.






Ginnie.com, Inc.
PO Box 50314
Columbia, SC 29250
(803) 783-3169
www.ginnie.com